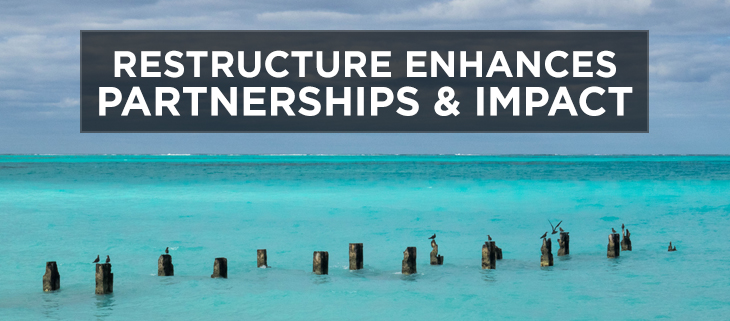 Island Conservation Restructure Enhances Partnerships, Impact
Island Conservation staff restructure to enhance partnerships and conservation impact.
FOR IMMEDIATE RELEASE
Contact: Sara Kaiser, Island Conservation, sara.kaiser@islandconservation.org
Resources: Photos; Interviews
October 24, 2017
Organization readying itself to receive and run with new strategic plan.
Island Conservation CEO Dr. Karen Poiani (appointed June 2016), has launched the organization's 2018-2025 strategic planning process and is restructuring the organization to receive and run with that plan, anticipated in July 2018. She commented:
I am excited to help Island Conservation mature into an even more effective and impactful partner and conservation organization. Our planning process is in full swing with our partners, board, and staff. In the meantime, we are strengthening the organization by building a new external affairs department, empowering conservation programs, and deploying our staff resources in the most effective ways possible.
A new, fully integrated, science-based Conservation Department has been established to enable efficient programmatic planning and decision-making. The department integrates our field biologists, scientists, and regional programs. Together this team will help set the organization's conservation priorities through strategically driven programs that maximize demonstrable conservation impact.
Dr. Erin Hagen, former South America Regional Director, has been promoted to Director of Conservation. She said:
I am excited to lead this holistic department to empower program staff and enhance our conservation impact.
The organization has also established a new Global & External Affairs Department. The department is charged with catalyzing island restoration impact through strategic global partnerships and public funding and policies, and to maintain public support for Island Conservation's interventions.
Gregg Howald, 18-year Island Conservation veteran, has been promoted to director of the new department. he said:
We are doubling down on external and global affairs to collaborate with a growing cadre of partners who are prioritizing island invasive species interventions to save species.
Former Director of Marketing and Communications Heath Packard has been promoted to Director, Government & Public Relations.
Sally Esposito, who has been with the organization nine years, has been promoted to Director of Marketing and Communications.
Dr. Poiani noted:
I'm very excited about Island Conservation's future! With a renewed focus on building strategic and stronger partnerships, I hope we can have even greater impact saving the incredible endangered and endemic species on islands all over the world.
END
Featured photo: Brown Noddies near Midway Atoll. Credit: Gregg Howald/Island Conservation