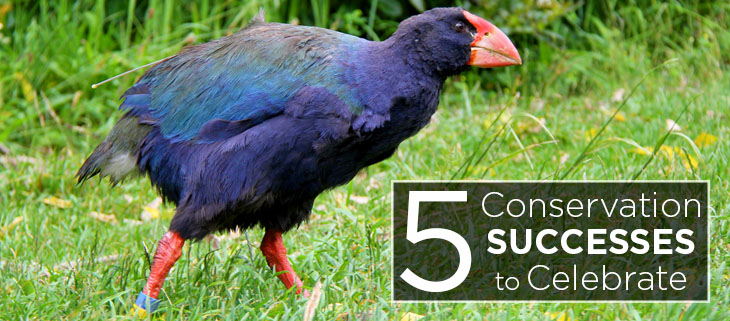 Five Conservation Success Stories to Celebrate
Revisiting conservation success stories is an important way to celebrate accomplishments even when there is more work to be done.
Conservationists always have more work to do, but giving pause to remember and celebrate victories is important and rewarding. Today, we're sharing five conservation success stories to help spread and amplify the joy of conservation.
1. South Island Takahē population triples in 30 years
New Zealand's native South Island Takahē was presumed extinct for almost fifty years until a population was discovered in 1948. Predation by invasive species has made population recovery slow but the conservation efforts have allowed their population to triple in the past three decades.
2. New Critically Endangered Crested Tern population discovered
Exciting discoveries are made every day, but for the Critically Endangered Chinese Crested Tern a new population is especially uplifting, as it means hope for species recovery. On an island in South Korea, a routine bird survey uncovered a new population in a region the species has never before been observed. Researchers believe that habitat expansion could help save them from extinction.
3. Wisdom hatches another chick
Midway Atoll is home to a world of seabird biodiversity. One of the best known species is the Laysan Albatross which breeds on the island every year. 'Wisdom', the oldest known wild bird at age 66, recently hatched yet another chick. It is estimated that she has had 30-35 offspring in her life and she's showing no signs of ending her incredible track record.
4. Goat Islands saved
The Goat Islands, located off the coast of Jamaica, have been preserved as habitat for the Critically Endangered Jamaican Rock Iguana. The species has been under pressure due to the presence of invasive species, habitat destruction, and hunting. A plan to develop the Goat Islands threatened to dismantle breeding and relocation plans. Good fortune befell the rock iguanas when development plans were dropped. The iguanas will be able to relocate to the Goat Islands after all.
5. Dibbler found not to be extinct, released into a safe island habitat
The Endangered Dibbler, a small marsupial, was once believed to be extinct. However, researchers discovered that a small population persisted, though at high risk of collapse due to predation by invasive feral cats and foxes. Conservationists stepped in and released 35 Dibblers onto Gunton Island where they could live free of threats from invasive predators. Dibbler monitoring allows researchers to identify individuals and track population growth.
Conservationists are hopeful for the recovery of these species from their threatened and endangered statuses. Although new projects always drive us forward in conservation, the positive impacts we have already achieved together are greatly deserving of recognition and celebration.
Featured photo: Endangered South Island Takahē. Credit: Kerri-Lee Beasly