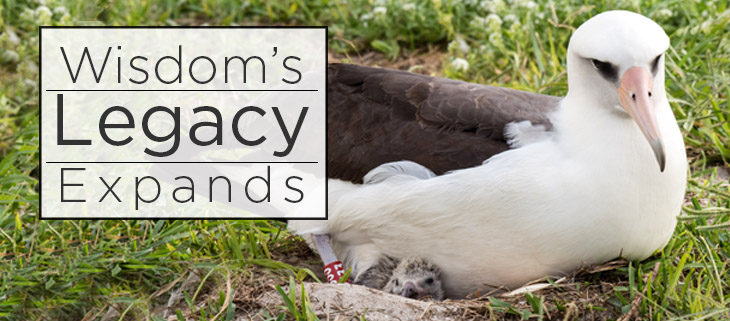 A Tiny Reason to Celebrate on Midway Atoll
Wisdom the Laysan Albatross, the world's oldest known bird producing offspring in the wild, has recently hatched yet another chick on Midway Atoll.
Laysan Albatross flock to the wildlife refuge on Midway Atoll every year to nest. Among them is Wisdom, who shocks the world by hatching young well into old age. Each year, her visit to Midway is widely celebrated. She is a beacon of hope for an atoll that has suffered extensive ecological destruction. She has recently hatched yet another chick, to everyone's delight.
Wisdom, aged at least 66 years old, is estimated to have hatched between 30 and 35 chicks in her lifetime. She and her mate Akeakamai, whose name means "Love of Wisdom" took turns incubating the egg this nesting season. Now they take turns caring for the chick and leaving the nest to retrieve food. The process takes close to seven months.
Source: Hawaii News Now
Featured photo: Wisdom and chick. Credit: Naomi Blinick/USFWS