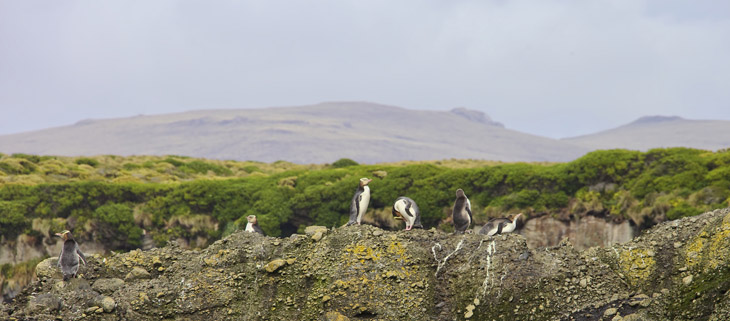 New Zealand Government Launches Ambitious Restoration Program
New Zealand's goal to become Predator Free by 2050 is underway, and one of the first places to benefit from restoration efforts will be Auckland Island.
Invasive predators have devastated wildlife and plants on the island. They were introduced to the island from expeditions and shipwrecks and since arriving, the invasive mice, feral cats, and pigs have destroyed native bird populations and plants. Mice are especially dangerous to nesting seabirds because they attack chicks and eggs.
The New Zealand government recently announced that it will begin an operation to remove invasive species such as mice, pigs and feral cats from subantarctic Auckland Island. This ambitious project to remove pests from 46 thousand hectares of precious habitat will take place over the next 10 years as part of New Zealand's plan to be Predator Free by 2050. The cost is expected to be between $40 and $50 million and will come out of the 2018 budget for pest control. While speaking at the Forest and Birds 2018 Conference, Conservation Minister Eugenie Sage said that $2 million dollars will be used over the next three years to do initial scoping work such as planning, which includes field trials. Sage commented:
Eradicating these pests from New Zealand's fifth-largest island would see Auckland Island become the country's largest pest-free island. It would complete the removal of introduced predators from all of New Zealand's sub-Antarctic islands, cementing our reputation as a world leader in predator control."
This archipelago is one of five groups that make up the subantarctic islands including Antipodes Islands where Million Dollar Mouse, a joint initiative between the Department of Conservation (DOC) and funding partners the Morgan Foundation, WWF-New Zealand, Island Conservation, and public supporters recently declared the successful removal of invasive mice. Now the Department of Conservation is looking forward to restoring Auckland Island and dedicated to protecting the largest and most biologically diverse island of the seven islands that make up the Auckland Islands. It is a very important habitat for nesting seabirds and is home to several species found nowhere else on earth: the Auckland Shag, Auckland Rail, Auckland Snipe, and the Auckland Teal.
Once the invasive species are removed, native species will be able to flourish again and they will be safe from the negative effects of the invasive species.
Featured photo: Yellow-Eyed Penguins on a ridge of a nearby island, Enderby Island. Credit: David 
Source: New Zealand Geographic