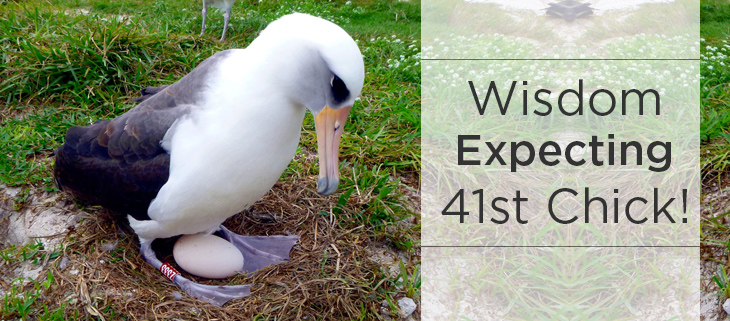 Wisdom, World's Oldest and Most Beloved Albatross, Is Expecting…Again!
World's oldest Laysan Albatross, Wisdom, returns to Midway Atoll to nest. 
"Wisdom" is the world's oldest Laysan Albatross. At age 66, she far exceeds the expected lifespan of 20-40 years. To the surprise of biologists, not only is she living long, but she is also still hatching chicks year after year. We were excited about this last year, and we're delighted once again.
Wisdom has just recently laid an egg in a Wildlife Refuge on Midway Atoll in the North Pacific Ocean. She is tending to the egg with her mate Akeakamai, whose name means "Love of Wisdom." Laysan Albatrosses form very long-lasting bonds with their mates. A pair that has successfully nested at least once is very likely to remain together unless one member of the pair dies.
Featured Photo: Wisdom with egg. Credit: Kristina McOmber/Kupu Conservation Leadership Program & USFWS
Source: The Guardian