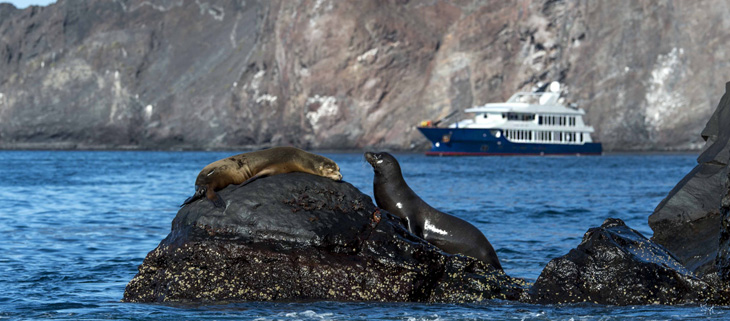 Win a Dream Vacation to the Galapagos and Help Prevent Extinctions
Place your bid, travel the Galapagos Islands, and help save Floreana Island's threatened species.
There is nowhere in the world like the Galapagos Islands, Ecuador. Here you can walk side-by-side with Blue-footed Boobies, snorkel with Marine Iguanas, and roam nearby Giant Tortoises.
Now is your chance to experience one of the most diverse places on Earth and help prevent extinctions while traveling on a luxury yacht. On June 1st at 3:00 pm PDT you can begin bidding on a seven-night trip aboard Ecoventura's MV Origin worth $15,600. The bidding will begin at $7,500 but act fast because the auction will close on June 15th at 3:00 pm PDT.
The Origin is Ecoventura's dream boat, blending the best of tasteful design and decor, luxury amenities, and environmental sustainability. Sleek, stylish and modern spaces make you feel like you are on board a luxury boutique hotel. Every element of the yacht has been designed for comfort, safety, and sustainability. From spacious staterooms with panoramic windows to world-class cuisine. Origin offers an unforgettable cruising experience matched only by the incomparable nature of the islands we visit.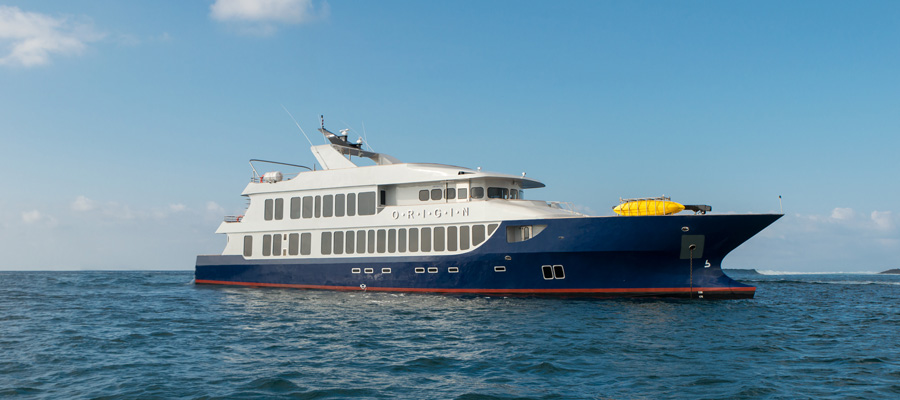 Ecoventura is committed to protecting and preserving the unique flora and fauna that have flourished in the Galapagos Islands by supporting conservation work in the Galapagos. This is just one way that Ecoventura is making it effortless for our guests to play a crucial role in the advancement of sustainable tourism and ecological protection.
For over almost three decades, Ecoventura has shared the enchantment of the Galapagos Islands with thousands of travelers. Now it is your turn to experience the Galapagos Islands up close.
All funds raised from the auction of this cruise will go directly to supporting our work on the ground to protect Floreana Island's native species and livelihoods.
Floreana Island in the Galapagos archipelago is home to an incredible diversity of native species found nowhere else in the world, including Galapagos Penguins, Galapagos Petrels, Marine Iguanas, land snails and Darwin's finches. The Endangered Floreana Mockingbird used to call Floreana home but is now found in small numbers on nearby islets due to predation by invasive species. In fact, the 55 threatened species that call Floreana Island home are threatened by the presence of feral cats and invasive rats and mice.
Floreana Island was first settled in 1832 and now has a small community of 150 people that rely on tourism, farming, and a small fishery to support them. Island Conservation is supporting the Floreana community, Floreana Parish Council, Galapagos National Park Directorate, Galapagos Biosecurity Agency of the Ministry of Environment, and Ministry of Agriculture in achieving the partnership's shared vision of a restored Floreana free of invasive species. You can also make a difference and help prevent extinctions of Floreana's native species.
Click here to visit the auction site and begin planning your next great adventure.
[g-gallery gid="19902″]
Featured photo: Galapagos Sea Lions and the Ecoventura's MV Origin off the coast of Floreana Island. Credit: Ecoventura