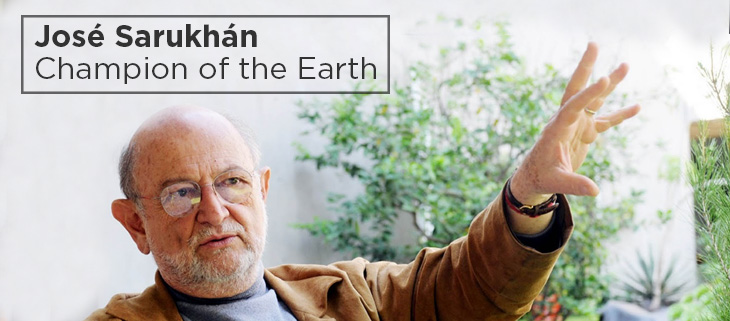 José Sarukhán – Champion of the Earth
Island Conservation Founding Advisor José Sarukhán receives the 2017 Tyler Prize for Environmental Achievement for his scientific contributions to the field of biological diversity and institution-building.
At a time when the fate of Mexico's rainforests were in critical danger from extensive land clearing, then-Mexican President Carlos Salinas turned to José Sarukhán for advice on how to show the global community that the country valued its natural resources. In response Sarukhán masterminded a federal government department focused entirely on biodiversity – one of the first of its kind in the world. It became known as CONABIO, the 'National Commission for the Knowledge and Use of Biodiversity' (Spanish: Comisión Nacional para el Conocimiento y Uso de la Biodiversidad). Now in its 25th anniversary year, CONABIO runs what is considered as the largest electronically accessible national biodiversity database in the world, with over 11.2 million specimens. CONABIO is an interministerial Commission (spanning 10 federal ministries) that acquires knowledge and shapes policies on conservation and the sustainable use of Mexico's natural resources. This integrated approach to conservation has proven so successful that President Obama's advisory council recommended it be used as a model for the United States.
Island Conservation co-founder Bernie Tershy commented:
In the early days of Island Conservation, I gathered up the courage to ask my personal conservation and science heroes to be on our Advisory Board. José Sarukhán was one of those heroes. His enthusiasm for Island Conservation was invaluable in Mexico and throughout the world.