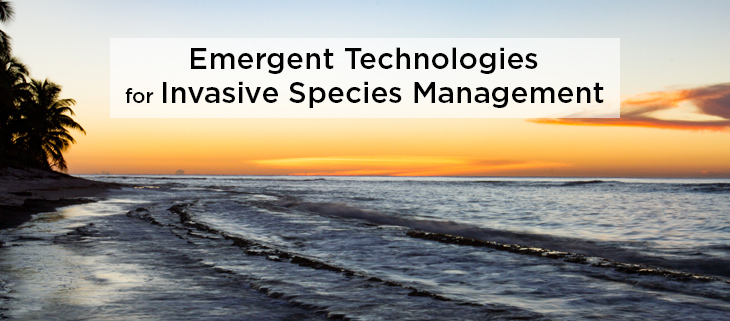 Innovation Summit Highlights Promising Technologies for Invasive Species Management
National Invasive Species Council (NISC) Secretariat and Partners Convene First Annual Innovation Summit
Emerging technologies are making it feasible to overcome major invasive species challenges.
Date: December 5, 2016 Contact: Jason Kirkey, Jason_Kirkey@ios.doi.gov
WASHINGTON – In order to further safeguard the Nation from the adverse impacts of invasive species, today the National Invasive Species Council (NISC) Secretariat joined with the Smithsonian Institution, Laura and John Arnold Foundation, Conservation X Labs, Island Conservation, and the Aquatic Nuisance Species Task Force (ANSTF) to launch the first annual Innovation Summit on invasive species. More than 250 leading resource managers, scientists, innovators, and entrepreneurs gathered at the Smithsonian Institution to spend a day showcasing and calling for emerging technologies that have the potential to solve what have been previously considered seemingly intractable invasive species challenges.
Invasive species are non-native organisms that adversely impact the environment, economy, health, infrastructure, or cultural resources and identity, among other assets. They are estimated to cost the United States nearly $200 billion annually.
"Invasive species are among the most significant yet least addressed challenges of our time," said Dr. Jamie K. Reaser, Executive Director of the National Invasive Species Council. "Even though they threaten livelihoods and lives, the invasive species problem is often considered too big, too complex, and too costly to warrant attention. The Innovation Summit demonstrated that we can effectively address the invasive species issue in a timely and cost-effective manner. Will and creativity are key."
Hundreds of invasive species already exist in the United States, including brown rats, zebra and quagga mussels, Burmese pythons, Asian carp, lionfish, cheatgrass, and the Asian tiger mosquitoes that carry Zika virus, among other disease-causing organisms. Despite prevention efforts by the public and private sectors, potentially invasive species, such as the spotted lanternfly, continue to enter the U.S. Other potentially invasive species, including a microscopic fungus that could decimate salamander populations, are poised to enter the country if we are not vigilant.
"Emerging technologies have the potential to be game changers in the management of invasive species. We need to provide incentives for technology development across a wide-range of disciplines", said Scott Miller, Under Secretary for Collections and Interdisciplinary Support at the Smithsonian Institution. "Investments in these technologies are investments in our environment, economy, and well-being."
Summit presentations highlighted some of the most formidable invasive species problems and the technologies emerging to solve them. These included an air-gun modified to disperse herbicide pellets, a technology which automatically removes invasive fish from infested waterways, and several genetic-based tools which show promise for the eradication and control of mosquitos and rodents, some of the worst invaders worldwide. Panelists discussed a wide range of topics aimed at fostering further technology innovation in the context of invasive species prevention, eradication, and control. Together, participants explored answers to questions such as: How can we incentivize technology innovation? How do we advance regulatory frameworks to support emerging technologies? How can we attract technology innovators to invasive species challenges? In addition, the Summit provided opportunities for professional networking between technology innovators and potential implementers.
"We need an entirely new cohort of innovators to join the effort to combat invasive species—not just invasive species scientists but problem solvers from all technical sectors—if we are going to effectively combat invasives," said Mike Stebbins, Vice President of Science and Technology at the Laura and John Arnold Foundation. "We also need new legal, regulatory, and institutional frameworks that will foster the systemic change to support the development and application of emerging technologies." The Laura and John Arnold Foundation sponsored the Innovation Summit through a gift to the Smithsonian Institution.
The White House Council for Environmental Quality (CEQ) used the Summit as an opportunity to announce a revision to the Executive Order on Invasive Species (E.O. 13112) which was originally released in 1999. The revised Executive Order calls on the National Invasive Species Council (NISC) to, among other things, improve Federal capacities for technology innovation to address invasive species. It also highlights emerging issues at the interface of invasive species and climate change, as well as the human health aspects of the invasive species issue.
The Summit organizers intend to make it feasible for participants to further innovate, sponsor, and apply the practical technologies needed to address the most pressing invasive species challenges. A "Going Beyond" team is already working on a report of Summit outcomes and recommendations that will be delivered to the incoming Administration, a call-to-action for the scientific and technical community, a forum for on-line problem solving through technology innovation, and a campaign to spread the message that "we can do this…" The NISC Secretariat will work with the senior officials to develop an implementation plan for advancing the duties set forth in the revised Executive Order. Karen Poiani, Island Conservation CEO, commented:
This summit is timely and promising. Invasive species are one of the leading causes of biodiversity loss globally. Marshaling our resources to deepen our collaboration around innovations for invasive predator control and eradication may be the single most impactful thing we can do to save imperiled flora and fauna. Indeed, if we work together, we can do this!
The Innovation Summit advances the 2016-2017 National Invasive Species Council (NISC) Management Plan which was adopted by the Federal government last July. NISC was established in 1999 to provide Federal leadership on the invasive species issue through high-level policy and planning. Further information is available at: https://www.doi.gov/invasivespecies/.
Featured photo: Mona Island, Puerto Rico. Credit: Tommy Hall/Island Conservation