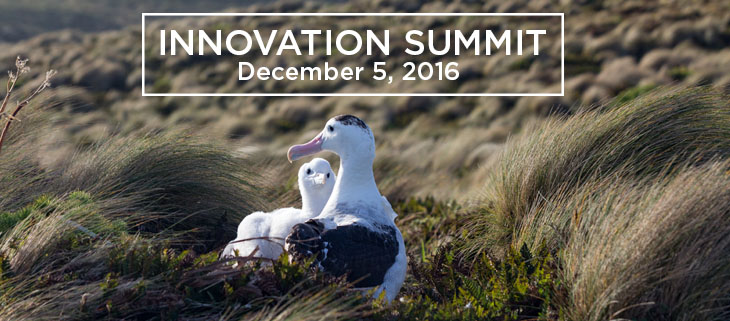 First Annual Innovation Summit on Invasive Species Takes Place December 5, 2016
National Invasive Species Council (NISC) Secretariat to co-host the first annual Innovation Summit on invasive species
Date: November 28, 2016
Contact: Jason Kirkey, Jason_Kirkey@ios.doi.gov
WASHINGTON – On December 5th, 2016, the National Invasive Species Council (NISC) Secretariat will co-host a major gathering of leading scientists, innovators, and entrepreneurs to solve seemingly intractable problems, problems which leave us vulnerable to the adverse impacts of invasive species. Invasive species are non-native organisms that adversely impact the environment, economy, infrastructure, cultural resources and identity, and/or human and animal health. They are estimated to cost the United States nearly $200 billion annually. The Innovation Summit will showcase new opportunities to prevent, eradicate, and control invasive species, as well as identify the next major scientific and technical challenges to be overcome.
Presentations will address some of the most formidable invasive species challenges, including management of Indo-Pacific lionfish, large constrictor snakes, Zika virus, and ballast water discharge. Technologies to be highlighted include an air-gun modified to disperse herbicide pellets, a fish passage technology which automatically removes invasive fish from waterways, and several emerging genetic-based tools which show promise for the eradication and control of invasive species. Panel discussions will take on a wide range of topics aimed at fostering further technology innovation in the context of invasive species prevention, eradication, and control. Questions to be addressed include: How can we incentivize technology innovation? How do we advance regulatory frameworks to support emerging technologies? How can we attract technology innovators to invasive species challenges?
In addition, the Innovation Summit will offer opportunities for professional networking between technology innovators and potential implementers. Most importantly, the Innovation Summit will make it feasible for participants to further innovate, sponsor, and apply practical knowledge and tools that will make a difference. Following the conclusion of the Innovation Summit, the "Going Beyond" team will begin to strategically move Innovation Summit outcomes into highly influential scientific, technical, and policy frameworks.
Who: 
Jamie K. Reaser, Executive Director, National Invasive Species Council
Michael Stebbins, Laura and John Arnold Foundation
Scott Miller, Smithsonian Institution
Alex Dehgan, Conservation X Labs
Karl Campbell, Island Conservation
What:
Innovation Summit on Invasive Species
When:
Monday, December 5, 2016
8:00 a.m. EDT – Registration
9:00 p.m. EDT – Program begins
5:30 p.m. EDT – Program ends
6:00 p.m. EDT – Reception begins
8:00 p.m. EDT – Reception ends
Where: National Museum of the American Indian
4th Street & Independence Av. SW, Washington DC
This is an exciting step forward in global efforts to mitigate the impacts of invasive species!
Featured photo: Antipodean Albatross with chick. Credit: Jason Zito/Island Conservation