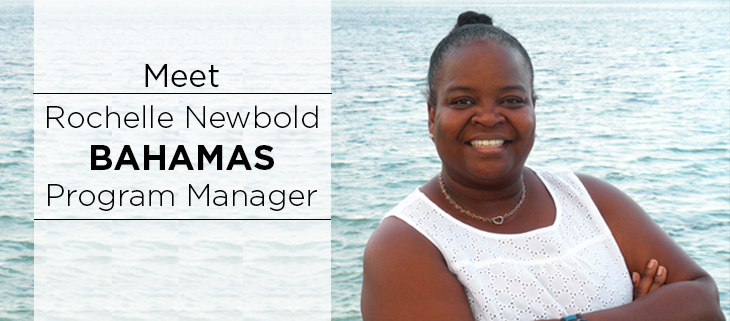 Meet Rochelle Newbold, Our New Bahamas Program Manager
Island Conservation deepens our commitment to on-island, in-country community-based conservation. 
Rochelle Newbold is joining Island Conservation to head up our new Bahamas Island Conservation Office as the Bahamas Program Manager. Rochelle holds a master's degree from Duke University in environmental management and has more than 16 years of experience in the field of conservation in the Bahamas. She brings to the team an extensive background in sustainable planning and development, regulatory compliance, and natural resource management. She has worked with government agencies, NGO's, and private landholders. Most recently she worked as a project coordinator for the Global Environment Facility United Nations Environment Program. She has a robust history of direct experience with most of the Bahamas' outer islands and has in-depth knowledge of the region.
We asked Rochelle to share her perspective on her work and the importance of native and locally-based conservation leaders. Here is her response:
What inspires you to be involved in island restoration?
If you're living on an island, you're very cognizant of beginnings and endings. You become acutely aware of limitations, including time. On an island, you can observe ecological changes in your own backyard and sometimes you can see changes within a generation. The native curly-tailed lizard, for example, used to be common during my childhood. Now, its population is decreasing and its appearance is restricted to hotspots. Another example of change is the presence of the invasive Australian pine, the Casuarina spp. On some islands, it's hundreds of feet tall and it's literally marching its way down island coastlines. While the casuarina is an invasive, we grew up with it, we never knew it wasn't part of the native ecosystem. But, now we're more knowledgeable of its effects and the fact that it's forcing out native coastal vegetation and contributing to erosion. It's examples like these which compels me to work with those who seek to restore the islands, not just for our enjoyment but the survival of hundreds of animals and plant species.
What are you looking forward to in your new position with Island Conservation?
I think Island Conservation's interest in working with Bahamians is a good indication of their willingness to support local and national initiatives. Because Island Conservation isn't bringing a prescribed agenda, it opens the door for Bahamians to have their concerns addressed and it fosters a good working relationship.
Through partnerships with Bahamanian communities, governments, NGOs and others, I'm looking forward to broadening the national conversation about invasives and expanding our conservation goals. Conservation is a very complex conversation, when you're talking about potentially eradicating one species to protect another. It's not a conversation we in The Bahamas can avoid much longer. Considering climate change and sea level rise, our islands' land spaces are going to become smaller–in a few generations, we could be experiencing a land crisis. And given the predicted climatic changes, we will need to try to give our native fauna and flora the best chance at survival—we need to act now to enhance their resilience. If we don't then many of our native species populations could fall off the tipping point. We must take steps now to prioritize what's critically important for the future of the country.
Rochelle will be coordinating implementation of a small-island restoration project in the Bahamas and developing a long-term strategy for restoration in the country. With her experience, knowledge, and dedication to conservation, Rochelle will help us advance our mission to prevent extinctions in authentic partnerships with local communities. Please join us in welcoming Rochelle to the team!