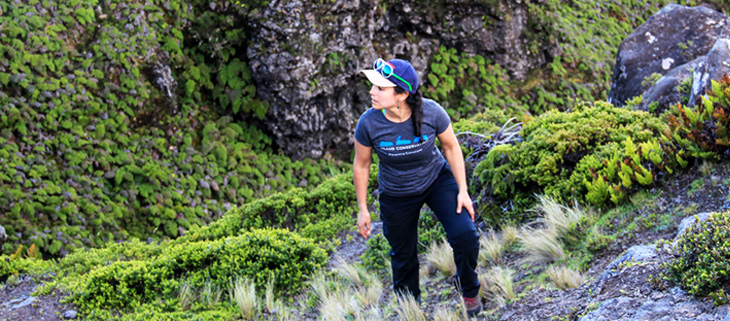 IC Project Facilitator Paulina Stowhas Receives Forward Under 40 Award
The University of Wisconsin awards alumna and IC Project Facilitator Paulina Stowhas the Forward Under 40 Award for her dedication to conservation.
Paulina Stowhas has always admired diversity — in nature, in culture, and in people.
Stowhas, a Chilean veterinarian and expert on human-wildlife conflicts, has recently followed her passion for biodiversity to the Juan Fernandez Archipelago: three islands that lie about 430 miles off Chile's coast. The islands, which have one of the most vulnerable ecosystems in the world, are known for their biodiversity. They are 61 times richer in endemic plants per square kilometer and 13 times greater in endemic bird richness than the Galápagos Islands.
The veterinarian is working to protect wildlife and remove invasive species from the islands, which are designated a Chilean national park and UNESCO Biosphere Reserve. She's building partnerships with governmental and community leaders to connect culture and conservation, helping to increase the well-being of the archipelago's 1,000 residents.
Stowhas helps people who live on the islands understand why it's important to ensure that domesticated animals don't harm native species, and how to be responsible owners of dogs, cats, and livestock. She has also continued collaborating on research to learn more about human perceptions of conflict-wildlife management, focusing on the interactions between farmers and carnivores in southern Chile.
Inspired in part by her learning experiences at the UW's Nelson Institute for Environmental Studies, Stowhas is also expanding opportunities for women in her field, who have found that their careers can be limited by gender bias in developing areas of Latin America. She's helped design workshops that empower these women to build professional networks and share their challenges and opportunities, reaching more than 50 women in nine countries.
An active member of the WAA: Chile Chapter and a mentor for current UW students, Stowhas credits her Wisconsin experience for a growing circle of experienced collaborators.
It definitely marks a before and after in my life," she says of her time at the UW. "It taught me to embrace difficulty and provided me with the ability to look beyond the limits, to continue learning, and to know that, with effort and dedication, I can take what I've learned [on campus] to anywhere in the world."
Stowhas is grateful for the recognition of her work and commented:
Happy for this recognition and thanks to Island Conservation and my team for giving me the opportunity, confidence, and support to contribute to our transcendental mission: preventing extinctions! Go IC!
Featured Photo: Paulina on Alejandro Selkirk Island, Chile. Credit: Island Conservation
Originally Printed by the University of Wisconsin Alumni Association