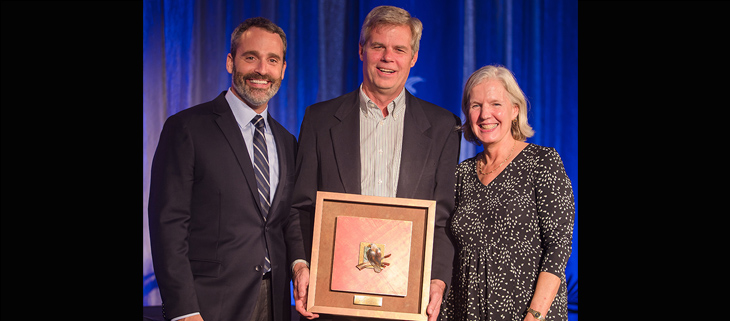 David Hartwell Receives Kingsbury Browne Conservation Leadership Award
Island Conservation board member David Hartwell receives Kingsbury Browne Conservation Leadership Award.
A key attribute of leadership celebrated by this award is that of a generous spirit — the sharing of ideas, experiences and knowledge with others to nurture and mentor the next generation of conservationists and leaders. -Land Trust Alliance
This past October. Island Conservation board member and former board president David Hartwell received the Kingsbury Conservation Leadership Award. This award is given annually by our friends at the Land Trust Alliance to honor "outstanding leadership, innovation and creativity in land conservation." The award celebrates individuals whose leadership has "enriched the entire conservation community." The recipient of this award is granted a fellowship by the Lincoln Institute of Land Policy to conduct research and serve as a mentor.
Andrew Bowman, President of the Land Trust Alliance, said:
Through his innovative ideas, collaborative approaches and generous spirit, Mr. Hartwell has advanced land conservation at every level for more than three decades…His personal passion is as evident in the boardroom as it is along a hiking trail.
Island Conservation CEO Karen Poiani agrees:
David Hartwell's contributions have made real differences in the world of conservation. His unwavering dedication and generosity go a long way in protecting the natural world. We are honored to learn from, and work with, this committed leader.
Upon receiving the award, Hartwell commented:
I don't do this work because I'm looking for recognition. I do this work because it's the right thing to do, because I'm able to help and I have a skillset that allows me to be able to do so. I'm excited by the fact that land is protected and is there for future generations to enjoy and for the wildlife it protects.
We are delighted that your skills, passion, and hard work have resulted in astounding conservation gains and we are grateful to have you on our board. Thank you and congratulations David!

David Hartwell's Bio:
David Hartwell is an advisor/board member to/of many businesses, nonprofit organizations and foundations. For 26 years, he served as the President of Bellcomb, Inc., a global supplier of composite panels. He has served on many nonprofit boards, often in leadership positions including the National Audubon (Vice Chair and Treasurer), Belwin Conservancy (Chair) Conservation Minnesota, Land Trust Alliance, Legislative Citizen Commission on Minnesota Resources (Co-Chair), Minneapolis College of Art and Design (Chair), Minnesota Audubon (Chair) Minnesota Land Trust (Founder and Chair) Minnesota Nature Conservancy (Treasurer) and the Mississippi River Fund (Treasurer). In 2001, he began to build a coalition of conservation groups that culminated in 2008 with the passage by the voters in Minnesota of a constitutional amendment that will raise an estimated $6 billion dollars for conservation in the next 25 years. He is an avid birdwatcher and gardener. He and his wife travel whenever they get the opportunity and have 4 children and 7 grandchildren.
Source: Belwin Conservancy