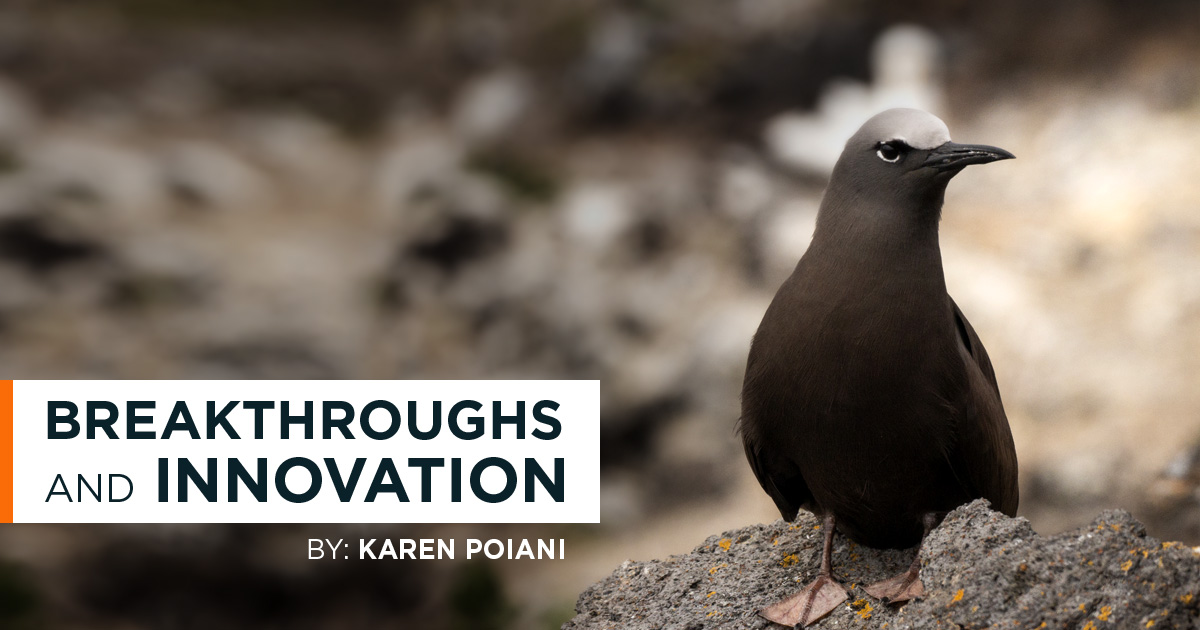 Breakthroughs and Innovation – The Future of Island Conservation
As Island Conservation approaches our 25th year of impact in 2019, it is clear that the future of island restoration requires breakthroughs and innovation to prevent further biodiversity loss.
By: Karen Poiani
By all counts, we are on the verge of a mass extinction crisis with detrimental and lasting consequences for our planet and future generations. Despite notable achievements in biodiversity conservation over the past decades, it is not enough to stem the tide of species loss. There is a broad global consensus that "business as usual" cannot continue. We must do more and faster. We must aim for conservation breakthroughs to make a lasting impact.
Earth's hundreds of thousands of islands play a special role in biodiversity conservation. Islands support the highest concentration of unique species and have seen the greatest number of recorded extinctions. The leading cause of species extinction on islands is from introduced, damaging (invasive) species. Most were introduced by human activities. While islands cover only 5.3% of the planet's land mass, they support 41% of Critically Endangered and Endangered terrestrial vertebrates, providing a concentrated opportunity for conservation.

Island Conservation operates globally at the interface of islands, biodiversity, and invasive species. Between 1994 and 2018, we worked with partners to facilitate the successful restoration of 63 islands, benefitting 1173 populations and 468 species and subspecies all over the world.
We pioneered methods to remove invasive species, producing measurable and lasting results.
As we look to the future, Island Conservation will build on our almost twenty‐five years of success to align talent and resources to achieve greater impact. We will invest in scaling strategies over the next five years to achieve breakthroughs in methods and funding for island restoration and test new methods on the ground. We will also continue deploying and scaling our time‐tested techniques and measuring our success by the results we achieve toward saving island species.
By using genetic tools, drones, and other developing technologies, there is the potential that Island Conservation, and hopefully others, can restore bigger islands, faster, more effectively, and with less risk. Innovation is the future of island restoration.
As it stands the methods that Island Conservation uses today are effective and have been proven to save species, but without advances and the application of new technologies there is only so much we can do. Over the next 25 years (and more) Island Conservation will focus on finding new ways to tackle bigger and more complex islands so that we can save more island species from the brink of extinction.
Although the task before the global conservation community may seem daunting, we remain fiercely hopeful. We believe in the power of human innovation and intention when channeled towards a shared goal: protecting our planet's irreplaceable biodiversity, especially on islands.