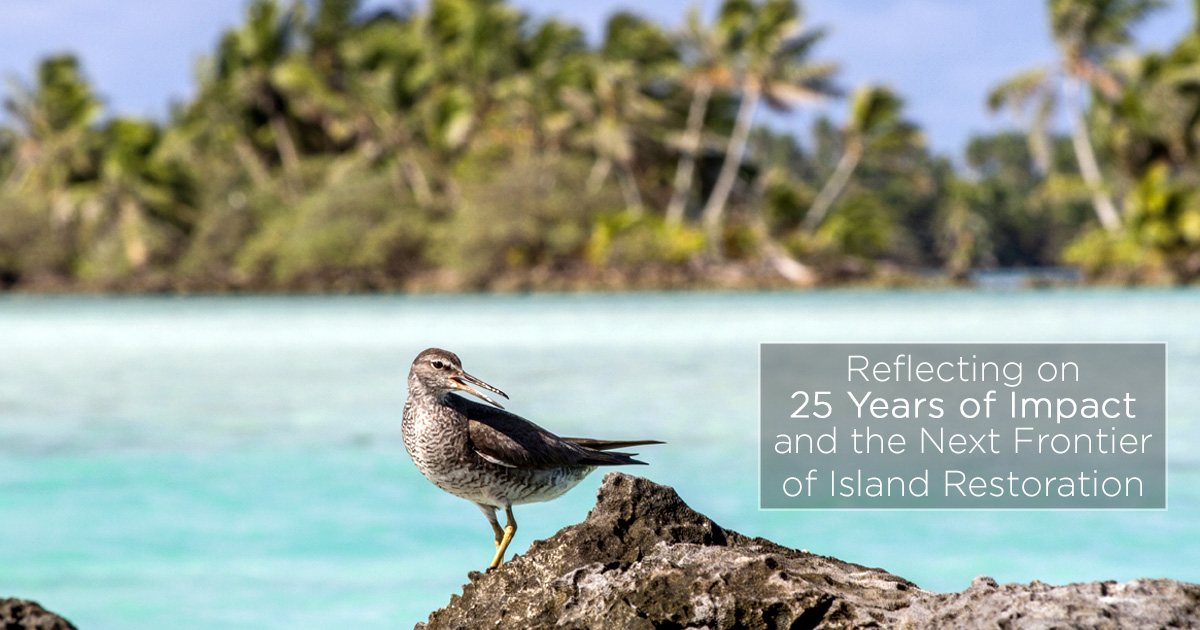 Reflecting on 25 Years of Impact and the Next Frontier of Island Restoration
Island Conservation was founded in 1994, which means we are approaching our 25th year of impact in 2019. Island Conservation co-founder Bernie Tershy, former Executive Director, Bill Waldman, and current Chief Executive Officer, Karen Poiani, shared a few words about their time at the organization and hope for the future of island restoration.
Island Conservation was the brainchild of two professors at the University of California Santa Cruz—Bernie Tershy and Don Croll. As seabird biologists, both Bernie and Don were inspired by the work of Ken Stager on Clipperton Atoll. In 1958, Ken saw the impact feral pigs had on Brown Boobies and Masked Boobies first-hand. He removed the feral pigs and the island started to thrive. Bernie and Don saw that by removing invasive species from islands, you could rapidly and effectively restore entire populations of seabirds. They saw a clear need for an organization focused on preventing extinctions by removing invasive species from islands.
Bernie explains:
Don and I wanted to have a positive proactive impact on biodiversity conservation, because most of the previous conservation activity we had been involved in was reactive and just slowing the decline of biodiversity."
Bernie and Don initially started on projects in Western Mexico and then expanded into California. Everywhere they worked, seabirds and other native island species were recovering. They knew they had to start thinking globally.
In 2008, Bill Waldman joined Island Conservation as the Executive Director. After working for 23 years at The Nature Conservancy, Bill was inspired to help grow a small but impactful organization into a globally recognized leader in species conservation.
During Bill's time at Island Conservation, he helped the organization to expand into new geographies including Alaska, the Galápagos Islands, and the Eastern Pacific. When asked what the driving force behind this expansion was, Bill responded:
The dire need to do more and have more done by others."
This viewpoint not only pushed Island Conservation to tackle new projects in diverse regions around the world but to become leaders in the field of island restoration. It also deepened our commitment to partnerships. Working with partners, we can accomplish more complex projects, such as the restoration of Palmyra Atoll in 2011 and Hawadax Island (formerly known as Rat Island), Alaska in 2008.
Island Conservation has shown time and time again that the removal of invasive species from islands is one of the best approaches to biodiversity conservation. As we look toward the next 25 years (and more) it is clear to Island Conservation CEO, Karen Poiani, that the future of our work lies in the conservation breakthroughs we make. Our past has shown us that invasive species removal and boots on the ground provide tangible results. Karen explains:
In my 25 years of conservation, it is often hard to see and clearly understand the impact your work has, but with Island Conservation the results are evident as native wildlife rebounds following the removal of invasive species. Our impact is measurable and with biosecurity it can be sustainable."
As Island Conservation looks toward the future and searches for ways to make an even bigger impact on the world of conservation, Karen sees innovation as the next frontier. By finding new approaches to our work including the use of drones and genetic tools, island restoration can be used on more islands with even better results. Innovation in conservation is the future. Karen explains:
By using genetic tools, drones, and other developing technologies, there is the potential that Island Conservation, and hopefully others, can restore bigger islands, faster, more effectively, and with less risk. Innovation is the future of island restoration."
Karen hopes that as Island Conservation moves forward, innovations can not only make our own projects more effective but can also push the field of invasive species removal further and broaden the scope of what is possible.
If the past 25 years have taught us anything, it is that we must keep challenging ourselves to do more if we wish to save our world's plants and animals from extinction.
Featured photo: Wandering Tattler on Palmyra Atoll. Credit: Abram Fleishman/Island Conservation