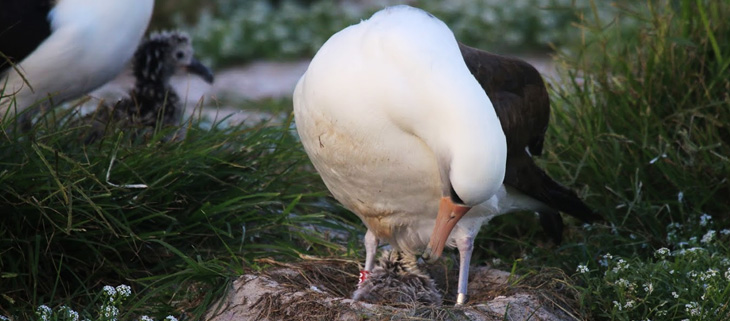 Wisdom Returns to Midway Atoll Once Again
Wisdom, the world's oldest known wild bird has returned to Midway Atoll to nest once again.
On December 10th, 1956, Chandler Robbins, bird biologist on Midway Atoll, banded a young female Laysan Albatross. In 2002, that same biologist returned to Midway and found the same bird nesting behind the old Navy Bravo Barracks that he banded 46 years prior. Today, that Laysan Albatross is known around the world as Wisdom or Z333 and is the oldest known wild bird.
Once Laysan Albatross hatch and successfully fledge, they head out to sea where they spend five to seven years soaring over the ocean, feeding, and growing. After a few years have passed, they return to the same island where they hatched to practice courtship and prepare for mating and nesting. In 1956, Wisdom could have been as young as five years old, making her 68 years old this year.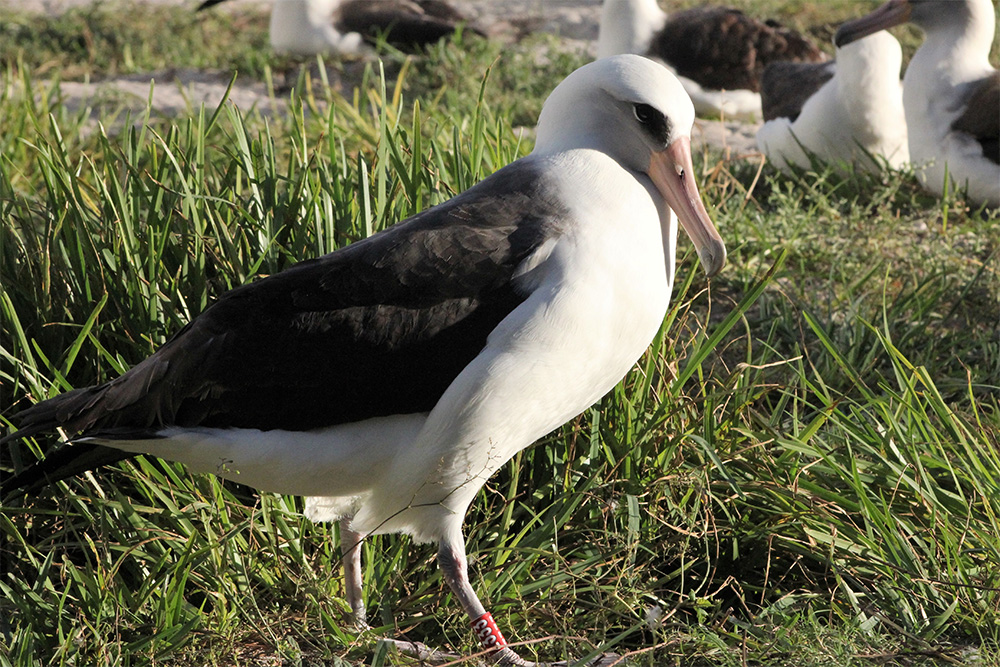 Since 2006, she has returned every year along with her mate Akeakamai whose name means "love of wisdom." This year, Wisdom returned once again making it the 13th year in a row that she has come back to her home on Midway Atoll, but Wisdom is only one of the one million Laysan Albatross that nest on the atoll annually.
Away from the threats of the open ocean, Midway Atoll was once a safe haven for these seabirds to nest. Today, invasive mice threaten not only eggs and chicks, but are known to attack and kill adult albatross. Island Conservation along with the US Fish and Wildlife Service, the Papahānaumokuākea Marine National Monument, and partners are working together to remove invasive mice and restore the atoll for Wisdom, her chicks, and the more than three million birds that rely on Midway Atoll.

Featured photo: Wisdom and her chick in early 2019 on Midway Atoll. Credit: Jonathan Plissner/Island Conservation