Restoration Brings Hope for Wildlife on Ulithi Atoll
Island Conservation and our partners at One People One Reef are working together to remove invasive rats, monitor lizards, and feral pigs from Loosiep Island, Ulithi Atoll with the goal of restoring seabird and sea turtle populations.
In 2019, Island Conservation worked with the community to rid Loosiep Island, Ulithi Atoll of feral pigs and planned for the removal of invasive rats and monitor lizards which have decimated the island's ecosystem. Alongside Island Conservation staff, a team of community members was established and trained to complete trials and lead marine turtle monitoring program for the season.
The team completed baseline biological monitoring on three of the turtle islands including surveys of vegetation, reptiles, land crabs, and seabirds which will allow us to measure the recovery on Loosiep after the project is complete. Baseline monitoring revealed that invasive rats are not present on the other four turtle islands, only on Loosiep. In March 2020, Island Conservation will work with the local team to remove invasive rats, making the turtle islands of Ulithi Atoll completely free of invasive mammals.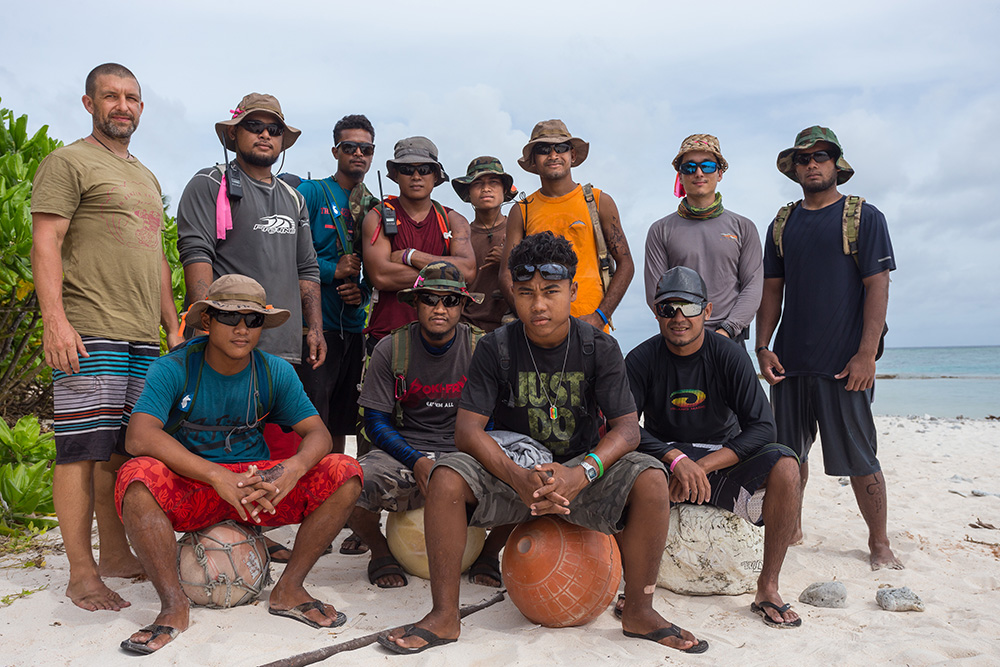 Island Conservation staff are continuing to find the most effective approach to removing invasive monitor lizards which dig up sea turtle eggs and prevent seabirds from successfully nesting. The successful removal of invasive monitor lizards would be a conservation first and would inform the further exploration of invasive reptile eradication around the world. Restoration of the turtle islands will also serve as a stepping stone for the restoration of Ulithi Atoll on a broader scale—ensuring protection for seabirds, sea turtles, coral reefs, and the livelihoods of the community for generations to come.
Monitoring the Impact on Reefs and Fish
The One People One Reef (OPOR) science teams are looking at fish and coral to see if they can detect a change in marine health following the recovery of the island's bird and turtle populations. OPOR will study isotope ratios in fish to see if there is a detectable change in the trophic structure of the reefs (how many trophic 'levels' there are and the functional groups in them.) For example, a decline in algae-eating fish can be detected by studying the isotope ratios in carnivorous fish. By monitoring the isotopes through the restoration process, one thing we can better understand is how the health of the island ecosystem affects the reef ecosystem, which we might see in a more complex and diverse trophic structure. 
Assessing the Impact on Community Wellbeing
Social scientist Supin Wongbusarakum is working with a local survey team led by Justina Paiy to assess how well the Ulithian households on different islands are currently sustaining themselves with local marine resources, gardens, and imported foods, and to better understand their perceptions of resource management. The results of this survey will provide baselines that help assess the impact of the restoration work on community wellbeing in the future.