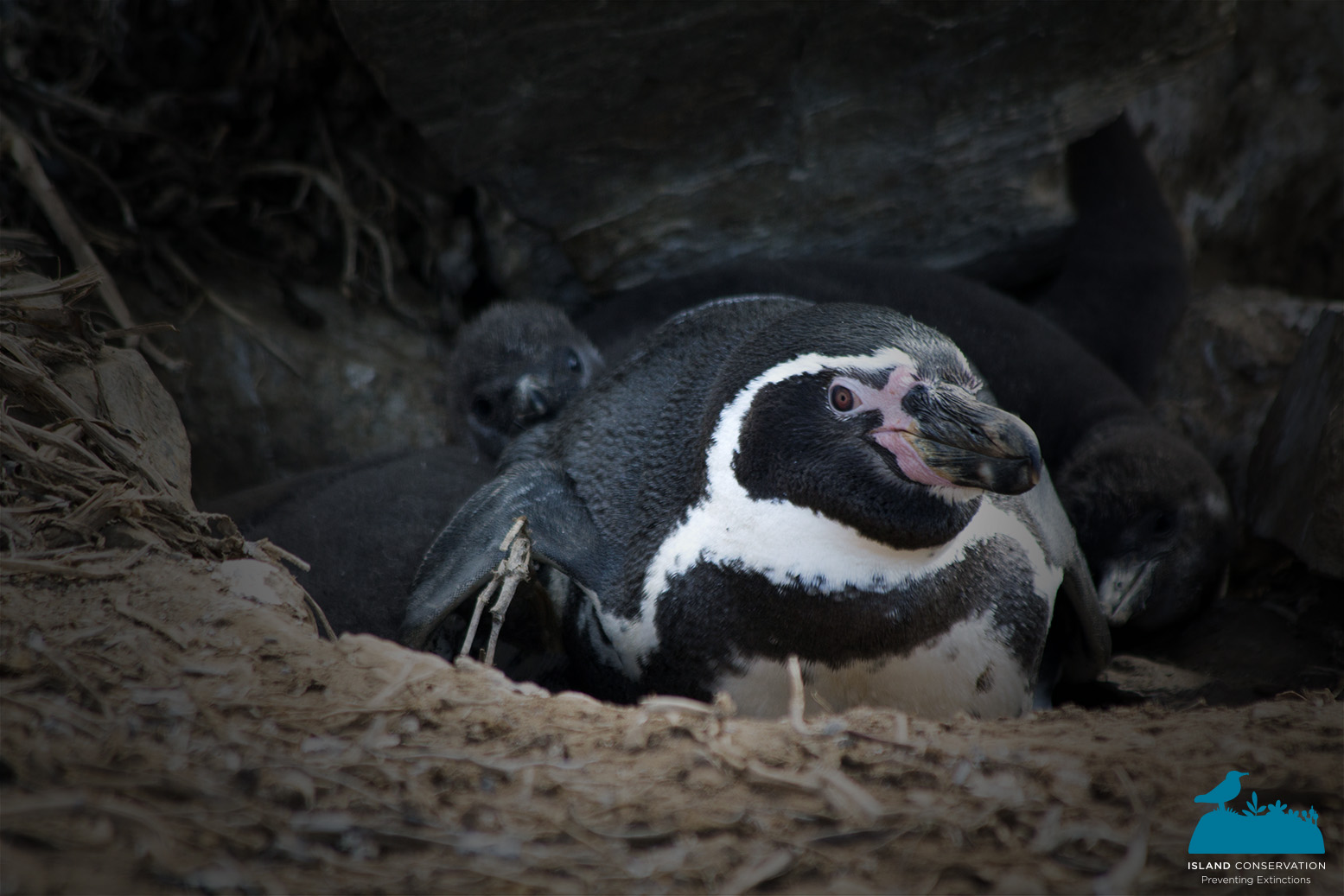 Vulnerable Humboldt Penguin – Protected in Chile!
For Immediate Release
January 27, 2015
Contact:
Heath Packard (Island Conservation, English, heath.packard@islandconservation.org; 360-584-3051 (US)
Liliana Yañez (CONAF, Spanish) liliana.yanez@conaf.cl
Chilean Island Restoration Project Benefits Vulnerable Penguin and Local Economy
Invasive European Rabbits Successfully Removed in Island Restoration Project
Islas Choros, Chile — The Chilean Forestry Corporation has partnered for the first time with international NGO Island Conservation to restore degraded ecosystems on Chilean islands. On the heels of recent monitoring surveys, the partners today are pleased to announce the successful removal of invasive European rabbits from Isla Choros in the Humboldt Penguin National Reserve, home to the largest population of that penguin species.
The invasive European rabbit represented a significant threat to the island's environment, including the Vulnerable Humboldt Penguin (Spheniscus humboldti) and Endangered Peruvian Diving-petrel (Pelecanoides garnotii), as listed by the International Union for the Conservation of Nature. This, in turn, limited opportunities for nature-based tourism and impacted local residents' livelihoods.
Choros is now free of this invasive pest and the island's native plants and animals have an opportunity to recover. This project is an essential part of a larger effort to restore the region's island ecosystems to support local marine and tourism economies, food security, human wellbeing, and the preservation of biodiversity, and the region's natural heritage.
"Working on the removal of invasive species is an important action our country needs to take to conserve natural resources. Today we are announcing an important accomplishment, demonstrating that the technical challenges to removing the European rabbit were overcome," explained Liliana Yañez, Director of Coquimbo Region for Chile's National Forestry Corporation, CONAF (La Corporación Nacional Forestal, Chile). "Now we must look ahead to replicating this experience on other islands, like Isla Chañaral which is also part of the Humboldt Penguin National Reserve."
Recovering Island Ecosystem
The invasive European rabbit was first introduced to the island by settlers seeking to establish a ready source of meat when visiting the island.  When the Reserve was established in 1990 and the settlers moved to the mainland, they left the invasive rabbits behind.
Invasive rabbits present on the island were destroying seabird populations by occupying their burrows, increasing erosion, and browsing on vegetation. The partners, with support from local community leaders and scientists, began removing damaging European rabbits in July 2013. At the mercy of rough seas and extreme weather conditions, relentless sun, high winds, and thick fog, the team walked over 2,500 kilometers in their efforts to free the ecosystem from this unwelcome invader. A recent monitoring trip to Choros confirmed that the island is now free of invasive European rabbits.
Early observations on the island suggest changes may already be taking place. The scientists observed vast swathes of healthy seedlings, hillsides covered in the Alstroemeria philippii (a rare, native plant species endangered in Chile), and Peruvian Diving-petrels investigating nesting sites in former rabbit burrows.
"This island is part of an important ecosystem with unique species that have suffered under the pressure of invasive species," said Erin Hagen, Program Manager for Island Conservation. "In the coming years, we will continue to see positive changes resulting from the removal of this invasive species, such as decreased erosion, increases in native plants and animals, and benefits to ecotourism. Protecting biodiversity and natural resources in the Reserve will support diversified incomes for the local community, and increase their resilience as they face dwindling natural resources and an uncertain climate future."
Julio Véliz, representative of el Grupo de Conservación Local (Local Conservation Group), agrees. "With more seabirds, there will be greater viewing opportunities for Reserve visitors. More visitors will mean greater opportunities for local tourism operators. This in turn will put more money in the pockets of local tourism operators, and create economic opportunities for shopkeepers, hoteliers, restaurant owners, and others in the local town (Punta de Choros) who feed and house the hundreds of thousands of tourists who visit every year."
Véliz  explained, "Elimination of the rabbit population will remove browsing pressure on native plants—allowing plants to thrive, stabilizing the soil and minimizing soil erosion, which negatively impacts the near-shore environment. Less soil in the near-shore environment will lead to a healthier and more productive marine ecosystem, so there will be more abalone, more algae, and more marine products to support fishermen and their families."
Strong Partnerships to Protect Plants and Animals
Invasive species experts from Chile, the United States of America, and Australia collaborated closely with CONAF reserve wardens and professionals from across three regions to ensure this project was a success. The generous support of Bell Laboratories, David and Lucile Packard Foundation, National Fish and Wildlife Foundation, Patagonia, and Mitsubishi Foundation for the Americas enabled the most important conservation activity the CONAF Coquimbo Region has implemented since the establishment of the Reserve. It is the first invasive species removal project from a Chilean island within a protected area in over 10 years.
"Over 75 similar invasive European rabbit removal projects have been successful since 1912, and the lessons learned from Choros can help guide future island restoration projects around the world," said Island Conservation's Hagen.
Choros Island is one of only four islands in Chile where the Endangered Peruvian Diving-petrel nests and almost 2,000 Vulnerable Humboldt Penguin pairs depend on the island for nesting. At 301 hectares, Choros is located in the Humboldt Penguin National Reserve, just a short distance off the coast of mainland Chile. The Reserve consists of three islands:  Chañaral, Damas and Choros. It is located about 100 km (62 mi) north of La Serena in the Coquimbo Region of Chile and has a total area of 859.3 hectares (2,123 acres).