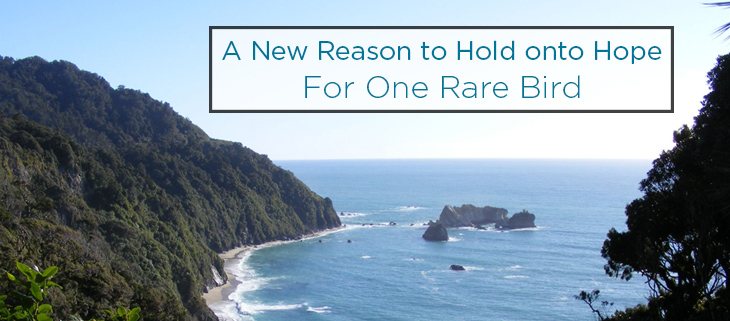 Unexpected Nests Signal Hope for Mohua
Conservationists celebrate discovery of Mohua breeding pairs on Blumine Island, NZ.
On a small island off the coast of New Zealand, bird enthusiasts and conservation biologists have just received a welcomed surprise. The Endangered Mohua, also known as a yellowhead, lives in New Zealand and nowhere else in the world. Just recently, it has been discovered breeding on NZ's Blumine Island.
In 2013, thirty-one Mohua were relocated to the island after invasive rats and stoats caused dramatic population declines. The New Zealand Department of Conservation rangers have found five pairs of the species. Three of these pairs were raising fledglings or incubating eggs. DOC Ranger, Dan Palmer explains:
It was especially pleasing to find the nests as the year before only nine adult mohua could be found and no chicks were seen so we couldn't be sure if they were breeding.
This finding offers new hope to the program and revealed that the elusive birds might have still been breeding.
But we now believe they had been breeding as the male of the pair incubating eggs was unbanded. All the mohua moved to Blumine Island had bands put on their legs to identify them so this unbanded bird must have hatched on the island, said Palmer.
As one of the few populations of Mohua, this is a huge success and offers hope for the eventual recovery of the species. However, this is just the beginning. Palmer explains:
Mohua numbers on the island are still uncomfortably low, putting the population at risk from threats such as a stoat getting onto the island or a storm. But knowing the mohua can breed to build up their numbers gives us encouragement they can have a secure future on Blumine Island.
The populations still have a ways to go in order to return to a stable population, but breeding success on the island marks an important step. Hopefully in upcoming years Blumine Island will join the short list of invasive-free islands that can support these birds and other threatened native wildlife.
Featured photo: New Zealand South Island. Credit: Richard Roche
Read the Department of Conservation press release at Scoop.co