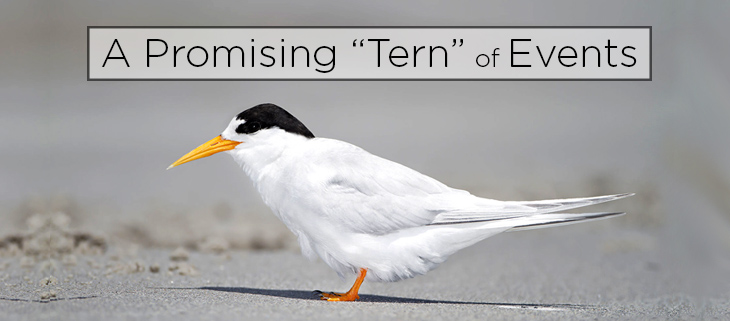 Fairy Tern: A Promising Turn of Events
Four Fairy Tern chicks (classified Vulnerable) just hatched on beaches from Waipu to Mangawhai, New Zealand.
The Fairy Tern is a beautiful seabird species classified by the International Union for the Conservation of Nature as Vulnerable. This seabird nests on mainland coastlines as well as on offshore islands. The species faces a number of threats, including habitat degradation and predation by invasive species.
Conservationists in New Zealand are monitoring them and working to support their population. Recently, two nests were disturbed in Papakanui. The eggs were rescued and brought to the Auckland Zoo, and then to "foster" nests on beaches from Waipu to Mangawhai. The nests are sectioned off and monitored by wardens.
These efforts to support Fairy Tern population growth are paying off: four chicks have hatched and are doing well. It is anticipated that the two remaining eggs will continue this positive trend.
Featured photo: Fairy Tern. Credit: JJ Harrison
Source: Radio NZ