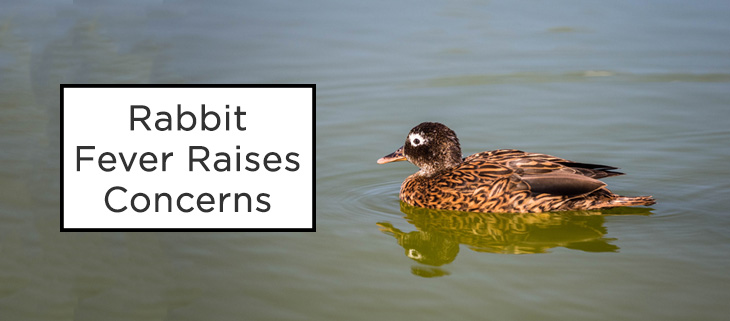 Prevent Rabbit Fever to Save Native Species
Invasive rabbits in Hawai'i pose a risk to native species as well as human health by transmitting a bacterium that causes Rabbit Fever.
Rabbits are one of the most problematic invasive species in the world. Their impacts on native ecosystems are well documented, from Australia, where they are widespread, to Laysan, a northwestern Hawaiian island where they drove endemic species to extinction in the 1900s. They are prone to rapid population growth and in great numbers can alter ecosystems, thereby damaging native plants and threatening native wildlife. However, ecological destruction is not the only consequence of invasive rabbits; they can also carry diseases, such as Rabbit Fever.
Rabbits are known carriers of a bacterium called Tularemia, which causes Rabbit Fever and can be fatal to humans. On the mainland of the United States, Tularemia is a naturally occurring bacterium and cases in humans are rare, but on Hawai'i the bacteria is non-native and could create a problem for people and native species if introduced. If Rabbit Fever is caught early enough there are antibiotics for humans and some animals.
The bacteria spread to humans via a carrier animal. Rabbits are not the only carriers; it can spread to mosquitoes, dogs, cats, and livestock, which creates an even more serious concern for not only human health but also for native species and agriculture. Fern Duvall, head of Maui's Native Ecosystem Protection and Management program with the Department of Land and Natural Resources commented:
If not here, there is a real threat that tularemia could, at any time, be introduced into Hawai'i. It affects so many animal species, and once here, mosquitoes and other blood-sucking arthropods could spread it.
Currently, rabbits are not invasive in Hawai'i, but the state has strict laws about rabbits as pets that help the government prevent them from becoming invasive. Rabbits kept as pets must be contained when outside since they can reproduce rapidly and quickly become a detriment to the environment. An escaped pair of rabbits could quickly lead to an out-of-control boom of invasive rabbits.
Ensuring that rabbits do not become invasive is an important step in protecting humans and the native species of Hawai'i. The more widespread rabbits are, the greater risk of Tularemia spreading and causing Rabbit Fever in humans. Prevention and protection of native species is key, but luckily there are antibiotics for humans and some animals if the disease is found early.
Featured Photo: A Critically Endangered Laysan Duck on Midway Atoll. Credit: Gregg Howald/Island Conservation
Source: Maui News