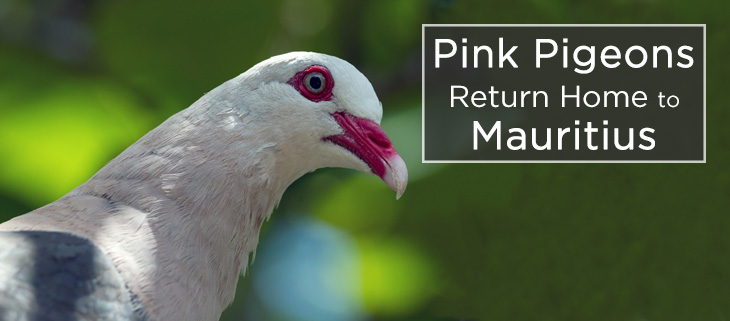 Endangered Pink Pigeons Return Home to Mauritius
Pink Pigeons, endemic to the island of Mauritius, face a challenging road to recovery as conservationists begin to slowly release captive-bred individuals to the wild.
On Mauritius conservationists have been working to prevent the Endangered Pink Pigeon (Nesoenas mayeri) from going the way to the island's famous Dodo. Endemic to the island and surrounding islets, the Pink Pigeon population was decimated by the introduction of invasive rats. In 1990 only twelve individuals remained, at which point conservationists stepped in and initiated a captive breeding program.
Now the population has grown to approximately 400 Pink Pigeons, but the conservationists' goal is 600. Increasing the captive Pink Pigeon population has been ta primary conservation focus on the island. Christelle Ferriere, a bird expert with the Mauritian Wildlife Foundation explains:
Captive breeding means they…had [the pigeons] breed in captivity and let the parents rear the squabs, or even hand-reared them…Another method was cross fostering, which is when the eggs were incubated and squabs were reared by another species–Barbary Doves.
Although the Pink Pigeon population has come a long way, conservationists still have hurdles to clear before the species can thrive again on Mauritius. The forests of Mauritius are overrun with invasive predators such as rats, and the Pink Pigeons face threats of disease that could wipe out the population due to their low genetic diversity.
Conservationists are now beginning to release small populations of the captive-bred birds. Spreading the individuals throughout the island and surrounding islets will ensure the conservationists don't "put all their eggs in one basket."
One day the conservationists hope that the Pink Pigeons will be able to thrive on the island without the helping hand of humans, but for now the species relies on the efforts of scientists to call Mauritius home.
Featured Photo: A Pink Pigeon. Credit: Thomas Berg
Source: Discovery Magazine Blog