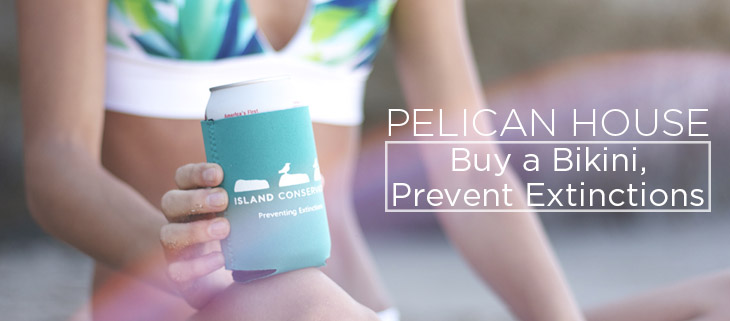 Pelican House: Fashion Swimwear Supports Conservation
Interview with Justine Willeford, owner of Pelican House, a conscious swimwear company that donates 10% of proceeds to Island Conservation.
Warm sand between your toes, waves lapping the shore, and the confidence that comes from wearing a beautiful bathing suit that's changing the world. Sound like paradise? It's Santa Cruz, CA, where Pelican House, a fashion swimwear company, is pioneering the sustainable and ethical production of (super cute) bikinis.
Enter Justine Willeford, founder and owner of Pelican House. She embodies the essence of the California beach town with a big smile, healthy glowing skin, and positive vibes well intact. Justine is an entrepreneur who has rejected the ways of the "fast fashion" industry in favor of running a sustainable and ethical fashion swimwear business. What's more, Justine generously donates 10% of her proceeds to Island Conservation, a non-profit organization dedicated to preventing extinctions of seabirds and island wildlife. The bikini tops and bottoms are named after islands that Island Conservation has worked to restore.
Sara Kaiser, Communications Specialist at Island Conservation: What gave you the idea to launch a sustainable swimwear business?
Justine Willeford: It was out of necessity and for two reasons: one being that I have a bit of a bikini addiction and I figured the healthiest way to manage that was to start making my own. And second, I was tired of searching for the perfect bikini. I wanted one that was complementary of a woman's body, comfortable, flirty, on-trend, and affordable. So I made one. Then I made the leap from sewing my own personal swimwear to creating swimwear for all, after my DIY Cheeky Bikini post on my blog started getting lots of attention. Everyone started asking if I sell them anywhere and I thought, let's do this.
There was never a question about how I would run the business–sustainable or not–to me there was never a choice. I only wanted to use the most sustainable business methods possible. Why do something at all if it will have a negative effect on the planet or add to our addiction to consumerism and waste? I wanted to do it right, make a positive impact, and with a higher purpose (raising money for Island Conservation). And while I'm not perfect, I strive for being as conscious about my choices as possible, and always take the most sustainable option available to me. I hope to someday be the first B Corp certified bikini company.
SK: What's the story behind the company name?
JW: Pelican House is the name of the 100-year-old beach bungalow I live in, which also serves as my work space. It used to be a hotel, which primarily fishermen stayed in. It's a very charming place; Pelican House (the brand) was inspired by my little home and what it's like to live in a tiny cottage by the sea.
SK: What makes your manufacturing process sustainable, and how is it different from typical swimwear companies?
JW: Today's fashion industry pollutes in so many different ways, such as runoff from fabric dye and overseas shipping. Then, there's the slave or child labor that goes into making the products in the factories. Often, swim products are made from materials from all over the world–the thread, the fabric, the labor, etc all come from different places. Pelican House is a conscious business. Everything from Pelican House is designed and handmade with love in Santa Cruz, California by yours truly. No sweatshops. I will never outsource my manufacturing. Furthermore, all materials used to make and ship items from Pelican House are sourced from local and small businesses in the United States, and use recycled and green options whenever possible. Some of the thread I use even comes from recycled plastic water bottles.
Every Pelican House bikini is designed and handmade with love in Santa Cruz, California by yours truly.
SK: You're not taking any shortcuts in your manufacturing process! What's the most challenging part of making swimwear that is ethically made and sustainable?
JW: The most challenging thing is finding sustainable fabrics. There are very few options in the U.S. Most are made overseas. I am constantly researching sustainable textile manufacturers based in the USA. I just recently found a company that produces high-quality Lycra made from recycled fishing nets! They are based in Italy not the USA, but at least they have fair and ethical working conditions and a sustainable business model. I am currently testing samples of this fabric, and hope to integrate it into my line as soon as possible. It takes a lot of time and patience to find what I'm looking for, but it's worth all the extra effort it if it means I'm making a sustainable choice. The other fabrics I use are remnants or leftover pieces from other manufacturers, so technically still being resourceful, and it allows me to create limited edition, one-of-a-kind bikinis. However, I would rather be involved in the textile production from start to finish so I know exactly where and how it was made.
SK: What inspires you to donate 10% of proceeds to Island Conservation?
JW: From the beginning, I knew I wanted to do something to give back to a conservation non-profit. Then, a former classmate from UC Santa Cruz reminded me about how Don Croll and Bernie Tershy started Island Conservation. It felt right ever since the first time I contacted IC and inquired about partnering. I knew it was meant to be. More than anything, I'm impressed with the work Island Conservation does. I really love that IC runs on a streamlined and small budget–doing a lot of big work and big impact with very little.
With Island Conservation, it goes straight to where it needs to go–clearly–because huge strides have been made and so much achieved in a short amount of time.
It's clear that you're making a difference when you're donating to Island Conservation.
SK: You've recently revamped your website–what's new and different with Pelican House?
JW: I started Pelican House a little over a year ago and I'm the only one behind it—I did my own marketing, my own photography, design and sewing—every aspect of the business. I didn't have any investment to begin with—I started with nothing and grew little by little. I made my own website and made it work, but after a year I felt like it needed a bit of a makeover. With the help of digital marketing expert Julian Reyes, we created a bigger website that represented our image more. It's exciting because I got things growing as fast as I could before but now it feels like this is day one, and it feels more real now. With the new launch there are also new bikini designs and I will be regularly featuring new products and fabrics.
Another new and important feature of the new Pelican House is that you can shop our suits on Pinterest! We now have "buyable pins". We also have a mailing list now that you can subscribe to, which will introduce a monthly newsletter with upcoming new products, latest featured blog posts, and events.
In the start of summer, I will be rolling out an ambassador program, where anyone can join our "girl gang" to receive a member's discount when they shop and be featured on our
Instagram page
in our bikinis. Basically like a street team, where like-minded eco mermaid bikini enthusiasts can come together and spread our message.

SK: What's your favorite bikini right now?
JW: My newest top–named after your project on Palmyra. It's a t-back and ties in the back. It's really comfortable, simple, sleek, and looks really nice.
My favorite bottom piece right now is named after your project on Arichika–it offers just enough coverage, and feels like really comfortable undies that you can wear at the beach.
SK: Are these bikinis good to wear under a wetsuit?
JW: The smaller cut ones are more comfortable under a wetsuit because they fit tighter and have less fabric. The Lehua bottoms stay on and don't budge much. The Palmyra top and the Mona top would also be great to wear under a wetsuit.
SK: So you live in Santa Cruz and sell handmade bikinis…Do you surf?
JW: I do. It's been a while since I've been in the water–lately I spend my free time at my sewing machine. I often go to yoga or for a run with my dog, but I'm going to be getting out more during the summer.
Featured photo: Marisha Forbes with an Island Conservation koozie. Wearing: Floreana top and Arichika bottoms. Credit: Justine Willeford