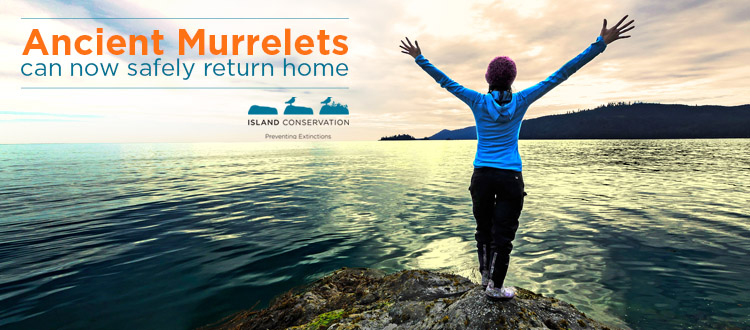 Ancient Murrelets can finally return to their island home
According to traditional knowledge, the Ancient Murrelet (SGin Xaana or night bird in the Haida language) was once abundant on Arichika Island in Haida Gwaii, British Columbia and served as an important seasonal food source for the Haida people.
However, introduced invasive rats brought to the islands in the late 1700s during the advent of maritime shipping devastated the island ecosystem and cultural heritage by eating seabird eggs and chicks.
Hope appeared for Ancient Murrelets and other native island species in 2011 when a restoration project was implemented on Arichika Island by the Haida Nation and Parks Canada in collaboration with international partners Island Conservation, National Fish and Wildlife Foundation and the Luckenbach Council, Mexico's Conservación de Islas, Bell Laboratories, Inc., and regional partners in Canada such as Coastal Conservation, Simon Fraser University and Laskeek Bay Conservation Society. Together the partners removed invasive rats, and today we are proud to declare the island rat-free.
Signs of ecological recovery began showing up immediately following removal of invasive rats, including increased numbers of nests and increased successful chick-rearing by Black Oystercatchers, a species that acts as a sentinel for changes in coastal ecosystem health. Another native species, the Dusky Shrew has dramatically increased in numbers since invasive rats were removed. Their populations are now similar to those on rat-free islands.
"Removal of invasive species, such as rats, from islands is a permanent solution, and once completed, will allow ecosystems to recover naturally. The benefits of restoring the islands of Haida Gwaii will pay dividends for both wildlife and people that both rely on the islands for their livelihoods, and for the visitors that come to this world-class archipelago."
Gregg Howald, Director of the North America Region, Island Conservation.
Free from invasive rats, Arikicka now has the opportunity to recover and once again be a highly productive seabird colony and restored cultural resource. We look forward to the return of native species to their island home, particularly Ancient Murrelets.
Homepage image: Woman on rock hands up. Parks Canada, N. Alexander