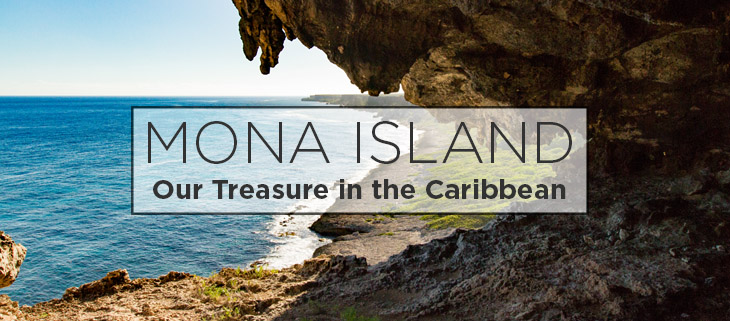 Mona Island Documentary – Our Treasure in the Caribbean
Marina Films, Inc. teams up with local and international experts to highlight the rich biodiversity and threatened species of Mona Island, Puerto Rico.
By: Cielo Figuerola
The temperature was close to 90 °F as we hiked through spiny shrubs and cacti on a sunny, beautiful day. We were trying to reach one of the most important nesting sites for endemic iguanas on Mona Island, deep in the woods of Mujeres Beach. I had my backpack, field gear, and hiking boots—nothing different from what I would normally take with me when going to the field, except for one detail: a film production crew right behind me! Cameras, lights, microphones (all in the middle of the forest) made me feel a bit overwhelmed yet excited for was about to happen that day.
Last year, I had the privilege of participating in an initiative that would feature and share the wonders of Mona Island with the world: a documentary film titled Mona: Treasure of the Caribbean. Mona Island is under the jurisdiction of Puerto Rico, and is one of the largest uninhabited islands in the tropical regions.
Designated a Natural Reserve in 1986 to protect its extremely high natural and ecological values, Mona Island is home to more than 400 vascular plants, 8 endemic reptile species, including the Endangered Mona Ground Iguana, more than 117 bird species, including the Endangered Yellow-shouldered Blackbird, at least 24 species of endemic invertebrates, and the largest Hawksbill Turtle breeding colony under U.S. jurisdiction and in the Caribbean region. Additionally, the cave system on the island, one of the largest and most extensive in the region, presents the most Taíno Indians rock art in all of the Caribbean. The island supports a sub-tropical dry forest ecosystem, one of the most threatened ecosystem types in the world and one of only two dry-forest protected areas in Puerto Rico.
These are only some of the characteristics that make Mona a unique place, often referred to as the Galápagos of the Caribbean. Unfortunately, this incredible place is unknown to many people due to the difficulty and cost of accessing the island; this is precisely what this film initiative hopes to change. This documentary film aims at gathering, in an audiovisual format, the beauty and importance of Mona's biological and historical resources so that it can be available to people from all backgrounds throughout generations.
Participating in this film was exciting and different—it is not every day one gets to be surrounded by cameras, lights, and sound equipment while in the middle of the forest trying to dig up an iguana nest! For the project, I was invited to talk about the Mona Island Iguana, and specifically about conservation projects that have been conducted to protect this endangered and endemic species. I was joined by fellow biologists, as well as archaeologists, who discussed turtles, caves, and historical events that took place on this sometimes enigmatic island.
The production team is made up of one of the most prolific film directors in Puerto Rico, Sonia Fritz, and the recently Emmy awarded Director of Photography, Carlos Zayas. The film production team traveled several times to Mona Island to film unique species and scenery using the best technology available, including drone footage of the impressive cliffs as well as remote access locations the island offers. This documentary film has been recently completed and will be premiering in several movie theaters in Puerto Rico by the end of March 2017. Eventually it will be available online as well.
Documentary films are one of the most important mediums able to change perspectives, and hopefully this one will reveal Mona Island's true colors to the world. In the words of director Fritz: We truly believe that if we know our past, we will also be able to understand our present, and plan our future with an interdisciplinary vision to preserve this natural treasure (Mona Island).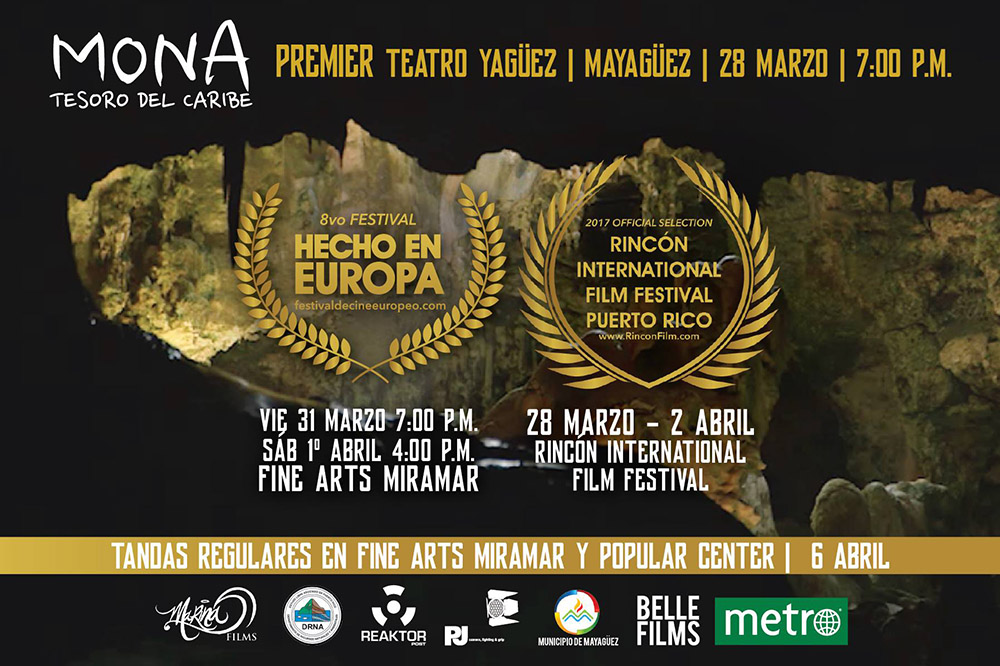 Credit: Marina Films, Inc.Several trailers are now available and you can watch them here:
Tráiler Mona, tesoro del Caribe by Marina Films on Vimeo.
Short trailer: https://vimeo.com/174283691
Complete trailer: https://vimeo.com/205691428
Featured photo: Mona Island. Credit: Tommy Hall/Island Conservation