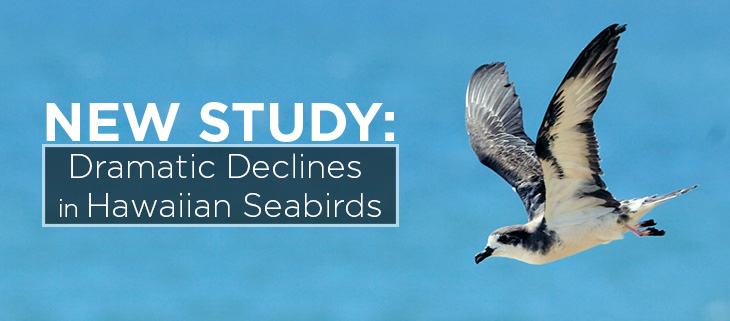 Sharp Decline in Hawaiian Petrel & Newell's Shearwater Populations
Hawaiian Seabirds at Risk: Research reveals alarming decline in Hawaiian Petrel and Newell's Shearwater populations.
For immediate release
Contact: Heath Packard, heath.packard@islandconservation.org, +1 360.584.3051
Resources: Interviews, photos, peer-reviewed publication
Two native Hawaiian seabird species, the International Union for the Conservation of Nature Red-listed Vulnerable Hawaiian Petrel and Endangered Newell's Shearwater, are experiencing steep decline according to a new research paper published in The Condor. The paper, titled "Declining population trends of Hawaiian Petrel and Newell's Shearwater on the island of Kaua'i, Hawaii, USA" reveals that the native populations have declined by 78% and 94% respectively over the past 20 years.
The causes identified by the researchers include power line collision, light pollution, invasive species, and diseases. Threats of marine pollution, plastic ingestion, overfishing, and effects of climate change and fisheries bycatch are possibly contributing to decline as well.
The scientists used ornithological radar to monitor summer movement patterns of Hawaiian Petrels and Newell's Shearwaters at 13 sites over twenty-one years. They also used numbers of seabirds disorientated by artificial lights each year, a phenomena where fledgling birds become confused by lights, and either collide with structures or fall to the ground, stunned, where they are vulnerable to neighborhood dogs or cats. Lead author of the study Dr. André Raine said:
These seabirds face a wide range of threats. Conservation effort needs to be focused on reducing power line collisions, fall-out related to artificial lights, the control of introduced predators, and the overall protection of their breeding habitats. Many of these efforts are now underway on Kauai, and I am hopeful that these will continue and expand over the next few years.
Efforts to control invasive species populations have been undertaken to benefit the Hawaiian Petrel and Newell's Shearwater. However, significant threats still exist. Not only is conservation crucial for the survival of the species, but also for the health of Hawaii's ecosystems.
The Pacific Cooperative Studies Unit of the University of Hawaii (PSCU), the Department of Land and Natural Resources (DLNR), Division of Forestry and Wildlife (DOFAW), National Tropical Botanical Gardens (NTBG), Save Our Shearwaters (SOS), Pacific Rim Conservation (PRC), and Island Conservation have worked hard to carry out research and conservation projects in support the survival of the Hawaiian Petrel and Newell's Shearwater. Dr. Nick Holmes, co-author on the paper said:
The Hawaiian Petrel and Newell's Shearwater are ecologically and culturally important in Hawaii. Continued monitoring and intensive conservation efforts offer hope for these threatened seabirds.
The scientists note that predator-proof fences could help protect the dwindling seabird populations, and that refugia free of lights, powerlines, and predators could help stabilize and reverse the decline of the seabirds. Lehua Islet, already free of powerlines, lights, and other human infrastructure, could serve as a refuge if invasive-species removal takes place. Plans to remove invasive rats from Lehua have been proposed and are currently under review by DLNR. Dr. Patty Baiao, Island Conservation Hawaii Program Manager said:
There is a high probability of success for DLNR's proposed invasive rat eradication which will dramatically increase predator-free habitat in Hawaii. The project will only succeed with support from a community that prioritizes protecting native seabirds over damaging invasive rats.
Featured photo: Hawaiian Petrel in Flight. Credit: Jim Denny
Department of Land and Natural Resources
,
Division of Forestry and Wildlife
,
Endangered
,
Hawaii
,
Hawaiian Petrel
,
Kauai
,
National Trop[ical Botanical Gardens
,
Newell's Shearwater
,
Pacific Cooperative Studies Unit
,
Pacific Rim Conservation
,
Save our Shearwaters
,
Seabird
,
University of Hawaii
,
Vulnerable