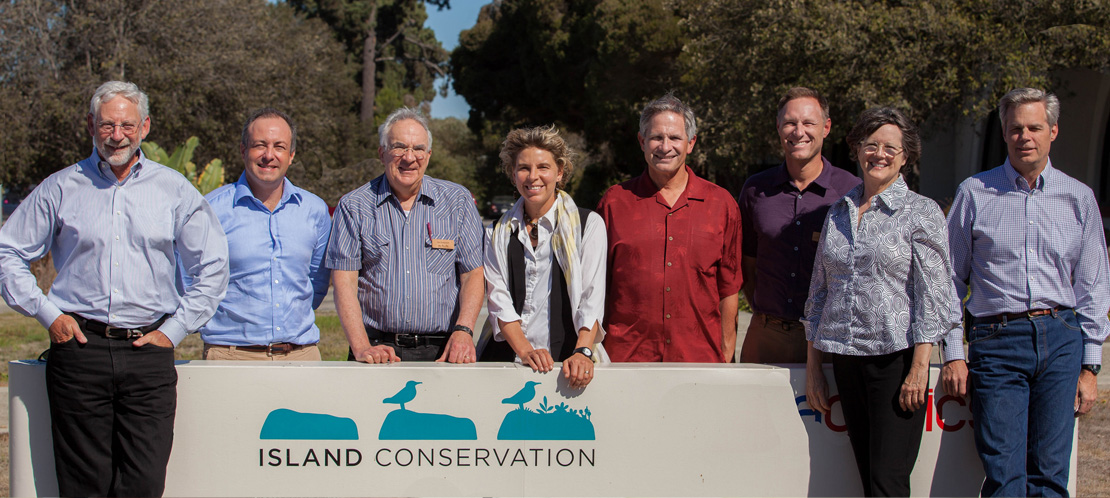 Exciting Changes for Island Conservation
For Immediate Release
Tuesday, January 26, 2016
Resources: Photos, Interviews, Bios, CEO Recruitment Notice
Contact:   Heath Packard, Island Conservation 360-584-3051 heath.packard@islandconservation.org
Karen Wilcox, Isaacson Miller, 617.933.1834, kwilcox@imsearch.com
Exciting Changes for Island Conservation;
Board and New Chair seek CEO successor for Bill Waldman
Santa Cruz, California, USA – After seven years of strategic leadership and organizational growth, Bill Waldman, Island Conservation's CEO, has announced his retirement. Newly appointed Board Chair, Angus Parker, a long-time Island Conservation ambassador and advocate, along with outgoing Chair David Hartwell, and the rest of the Board have commenced a search for Bill's successor.
Waldman, who took the helm of Island Conservation in 2008 and recently announced his intentions to retire mid-2016, led the organization through a period of transformative growth. Shepherding an annual budget increase from $2.1M (2007) to $5.5M (2015) and full-time staff expansion from 15 to 37, Island Conservation matured from a regional organization to a global organization with a reputation to match. Along the way, under Bill's seven years of leadership, the organization saved 54 threatened species on 20 islands from extinction including the formerly Extinct-in-the-Wild Pinzón Giant Tortoise in the Galapagos. Working only in Mexico and the US seven years ago, today Island Conservation's reach includes six continents, with operations in seven countries and projects in development for six additional nations by 2019.
"I am tremendously proud of this organization, the team we've assembled, and our lasting track record of success for saving species,"
remarked Waldman recently.
"But there are 1000s of at-risk native species on hundreds of islands that need our help today. We need to grow even more."
Bill's partners in this organizational development include outgoing Board Chair, David Hartwell, who added, "We are perfectly positioned for another leap forward in our capacity to complete island invasive species removals. I'm eager to continue to help Island Conservation find a new leader who meets that challenge and builds on this foundation of incredible success." Hartwell is beginning his third, three-year term on the board as he passes the gavel of Board Chair to Angus Parker.
Parker, a non-profit consultant with extensive program and operations experience in conservation organizations, said, "I've been involved with Island Conservation for years and the progress the staff and board have achieved in the last decade is just tremendous. I am honored to help Island Conservation take it to the next level by completing our priority islands even faster and cheaper, and by developing new tech to tackle even larger and more complex islands. Threatened native island species and communities are counting on us."
Isaacson, Miller is managing the effort to recruit CEO candidates for the board's consideration. The position may be based in the Santa Cruz, CA headquarters, nearby in San Francisco, or in the greater Bay Area. The recruitment notice is on their website and on Island Conservation's website.
"I have never encountered an organization with a better or more lasting return on conservation investment than Island Conservation,"
said Waldman.
"We are an organization to watch, on our way to even greater things."
For More information
Inquiries, applications, and nominations may be directed in strict confidence to:
Karen Wilcox, Vice President & Sarah Herman, Managing Associate
Isaacson, Miller, Inc.
263 Summer Street
Boston, Massachusetts 02210
617.262.6500
www.imsearch.com/5655
Applications should include a CV or resume and 1-3 page letter of interest. Island Conservation is committed to equal opportunity and welcomes and encourages a diverse pool of candidates in this search.
---
About Island Conservation
Island Conservation (IC) is our world's only global, not-for-profit conservation organization whose mission is to prevent extinctions by removing invasive species from islands. We work where the concentration of both biodiversity and species extinction is greatest – islands. Removing a primary threat – introduced invasive vertebrates – is one of the most critical interventions for saving threatened plants and animals and restoring island ecosystems. Once invasive species are removed, native island species and ecosystems recover with little additional intervention. Over the past 20 years, Island Conservation and partners have deployed teams to protect 994 populations of 389 species on 52 islands. IC is headquartered in Santa Cruz, CA with field offices in Australia, British Columbia, Chile, Ecuador, Hawaii, New Zealand, and Puerto Rico.