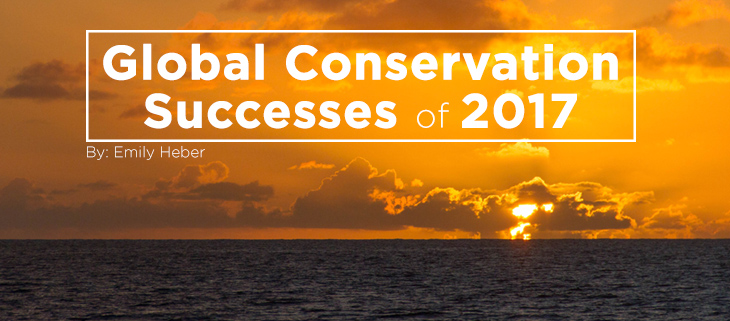 2017 Conservation Successes from Around the World
At-risk species on the road to recovery have reached important conservation milestones in 2017. Here are just a few of the conservation successes to celebrate this year.
By: Emily Heber
Hawaiian Crows Fly Free
After a 15-year absence from the wild, conservationists have successfully released 11 Hawaiian Crows, also known as Alalā, to the wild in the Pu'u Maka'ala Natural Area Reserve. Conservation efforts and captive breeding programs aimed at returning these endemic crows to the wild have been in progress for more than a decade,  and although there is more work to be done, the return of wild Alalā is a conservation success. After a setback in February of 2017 (three of the five initial individuals that were initially released succumbed to predation and starvation) conservationists enhanced predator avoidance training and re-attempted a release in September. The second try has been an overwhelming success!
Brown and Okarito Kiwi Downlisted
Two of New Zealand's iconic Kiwi species, the North Island Brown Kiwi and the Okarito Kiwi have been downlisted from Endangered to Vulnerable by the International Union for the Conservation of Nature. It took 30 years of conservation to make this stride for the small, flightless bird. In the mid-1990s only 160 Rowi remained, but due to extensive conservation efforts, there are now 450 adult individuals. The Brown Kiwi population has been growing at approximately 2% per year in managed populations. Unmanaged populations are still at high risk due to the presence of invasive species and are still declining. Although invasive predators are still a concern for the species, the growing populations are promising.
Takahē Population Rises
The rediscovery of the believed-extinct South Island Takahē in 1948 made international news, but the species was not safe in its remote South Island habitat. The introduction of invasive predators such as stoats and invasive Red Deer rapidly decreased the bird population. In the 1980s approximately 100 wild Takahē lived in the New Zealand's Murchison Mountains. The dramatic decline was a warning sign for conservationists. Takahē populations were never large and in 1948 an estimate identified 200-400 individuals. Conservation efforts were in place for decades but showed little improvement for the birds' population. The New Zealand Department of Conservation re-evaluated their plan and began using predator-proof fences to protect Takahē and support them in raising their chicks safely release into the wild. Now the species has reached 300 individuals, which is a major recovery for the large, flightless rail.
Night Parrot Rediscovered in Queensland, Australia
Night Parrots were presumed extinct for over a century until 2013 when a small population was rediscovered in Queensland, Australia. Since then conservationists have been working to protect the elusive birds. The discovery was made by a group of four friends who had been searching for seven years to find a population in Western Australia. Upon their discovery, they were able to photograph the night parrot which makes this the first verified sighting of the species in the region in over 100 years. Moving forward, researchers believe that further evaluation of potential habitat could lead to the discovery of more hidden populations and suspect that the species is less threatened than previously thought. For now, conservationists are excited to know there is hope for the future and researchers are recommending increased protections in critical habitat areas.
Featured Photo: Acteon + Gambier Sunset Seascape. Credit: David Will/Island Conservation