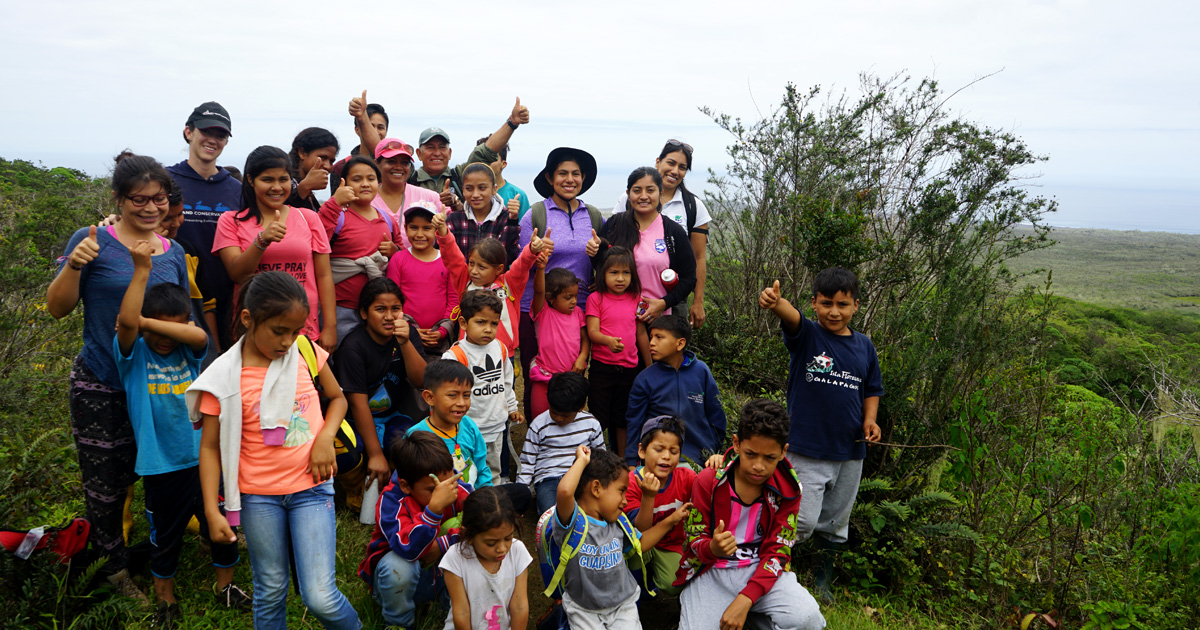 The Children of Floreana and the Traveling Petrels
Island Conservation's Legal & Administrative Specialist for the Galápagos team, Carolina Torres, recounts her recent trip to Isabela Island with the children of the Floreana Island.
Few things brighten the heart like hearing a flock of Galápagos Petrels sing on Floreana Island, Galápagos. The deafening sound echoes between the peaks of Cerro Pajas and Cerro Allieri and fills the empty space of the nights between the months of April to September. What you are hearing is the largest colony of Galápagos Petrels in the Galápagos Archipelago.
But, on this occasion, the petrel songs have become those of the children of Floreana, who carry in the depths of their beings the spirit of the petrel and of the island. Their harmonious sound turns into tireless laughter and cries of happiness.
In the Floreana community, there are 26 children who attend the Amazonas school. These are all the children that inhabit this remote island.
I recently had the opportunity to participate in an educational camp that focused on environmental education for the kids of Floreana Island, in support of the Floreana Ecological Restoration Project. Island Conservation and partners including the Directorate of the Galapagos National Park and the Rolf Wittmer Foundation with support from Silversea Ecuador put the camp together.
The first two days of the week were held on Floreana, where the participants learned about the ecology and biology of the Galápagos Giant Tortoise, as well as about the plastics problem and how we each can contribute to the reducing usage of this material.
The three remaining days, children between 7 and 16 years old, accompanied by members from our partnering institutions, traveled to Isabela where they learned about terrestrial turtles, invasive species, the geology of the Galápagos Archipelago, and coexistence of the inhabitants of Isabela Island. We visited the wetland complex, participated in a theatrical activity, climbed the Sierra Negra volcano, swam in the beautiful beaches, and witnessed the operation of an airport.
This trip, beyond having been a learning and leisure experience for the participants, allowed me to show that the hope for the future of Floreana is found in these small children and their community. How, like the petrels, they must fly and travel to return to the place where they belong. It is our duty to take care of them and their community as we take care of nature if we wish to truly protect and restore the Floreana ecosystem.
Featured photo: Staff of partnering organizations and the children of Floreana.