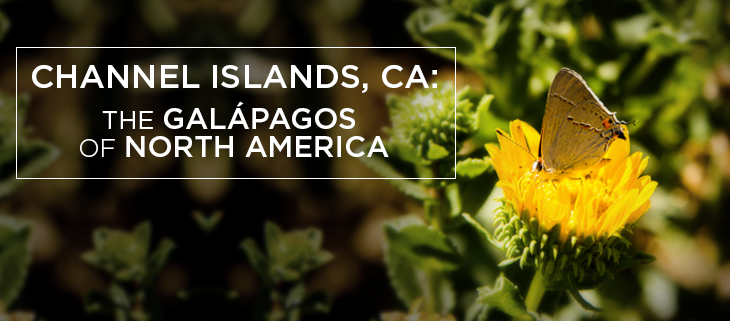 Restoring the Channel Islands: the "Galápagos of North America"
The California Channel Islands are sometimes compared to the Galápagos Islands. They share biodiversity, beauty, and the problem of invasive species in common.
Just off the coast of Southern California lies an archipelago of eight islands that stretch a total of 160 miles from the southernmost San Clemente to the northernmost San Miguel. The Channel Islands islands do not lie far from the mainland, but even a quick visit can reveal the world of ecological differences. For this reason, and the impressive 145 endemic species that live there, the islands have been nicknamed the "Galápagos of North America."
Santa Cruz Island is one of the northern islands and part of the Channel Islands National Park. It is the largest of the Channel Islands and is home to 60 of the 145 endemic species found on the islands, two of which are only found on Santa Cruz – the Island Scrub Jay (Aphelocoma insularis) and the Santa Cruz Island Silver Lotus (Acmispon argophyllus var. niveus).
Like the Galápagos islands, they are also not immune to the threats invasive species pose. The Santa Cruz Island Monkey Flower (Mimulus brandegeei) is one example of a species that has unfortunately been lost after the introduction of non-native plants and animals such as feral pigs, Eucalyptus trees, and fennel.
The story of the Channel Island Fox is a well-known example of the threats invasive species pose, but it is also exemplary of the incredible conservation gains offered by island restoration. This small fox is the largest native mammal on the islands. In the 1990's, the population of foxes dropped dramatically due to the increased presence of invasive Golden Eagles, feral pigs, and a canine disease.
After the removal of feral pigs and the return of the native Bald Eagle, the Channel Island Fox population is on the mend. The species is recovering so well that in August 2016, three of the four subspecies found on the Channel Islands have been federally de-listed. Although the Catalina Island subspecies is still considered Threatened, there is hope for all the species that have benefited and continue to benefit from the removal of the invasive species. This success is due to efforts by the US Fish and Wildlife Service, Island Conservation, Institute for Wildlife Studies, The Humane Society of the United States, and the Montrose Settlement Restoration Program.
These diverse islands illustrate the importance and the benefits of invasive species removal. The ecological history of the islands spans millions of years, over which time these species have evolved alongside other native species as part of a balanced ecosystem. Although progress has been made in restoring the islands and removing invasive species, there is still work to be done to continue to conserve the "Galápagos of North America."
Featured photo: Butterfly on Anacapa Island and Channel Islands, California. Credit: Island Conservation 
Sources: Malibu Times
California Channel Islands
,
Channel Islands Fox
,
Channel Islands National Park
,
Endemic Species
,
Galapagos
,
Institute for Wildlife Studies
,
Island Scrub Jay
,
Santa Cruz Island
,
Santa Cruz Island Monkey Flower
,
Santa Cruz Island Silver Lotus
,
The Human Society of the United States
,
The Montrose Settlement Restoration Program
,
US Fish and Wildlife Service