Walking Among Seabirds and Historic Buildings on Midway Atoll
Island Conservation project manager, José Luis Herrera, shares his experience on Midway Atoll as he maps out the infrastructure and watches in amazement of all the seabirds that rely on the atoll.
During certain times of the year, airplanes traveling from Honolulu to Midway have to land at night to avoid any interference with native seabirds, so the first time I arrived on the atoll was at night, but I could still see irds…everywhere. I counted one, two, three, ten, thirty…oops, I lost track. The birds were sitting in the dunes, grasslands, beaches, and forested areas all around the runway.
It was immediately clear why Midway is a paradise for seabirds—a refuge for 30 species, translating to over 3 million birds that bring life, activity, and a lot of work for the biologists and island residents. One of the most emblematic and abundant seabird species found is the Laysan Albatross, also known as "gooney birds" or "Moli" in the Hawaiian native tongue. Over 70% of the global population of breeds on Midway making this place a globally important site for the conservation of this species.
When I woke up my first morning and looked through my window, I saw the horizon covered by Laysan Albatross as well as buildings and infrastructure. The man-made structures are extensive and are the result of a long history of human habitation and infrastructure development when the atoll was a US Naval Base. The atoll had an infrastructure capable of housing and supporting over 5,000 people, but most of it has been removed in the transition from a military installation to a wildlife refuge and national memorial. The remaining infrastructure includes buildings in use for housing, offices, dining, workshops, as well as abandoned and unmaintained structures including a bowling alley.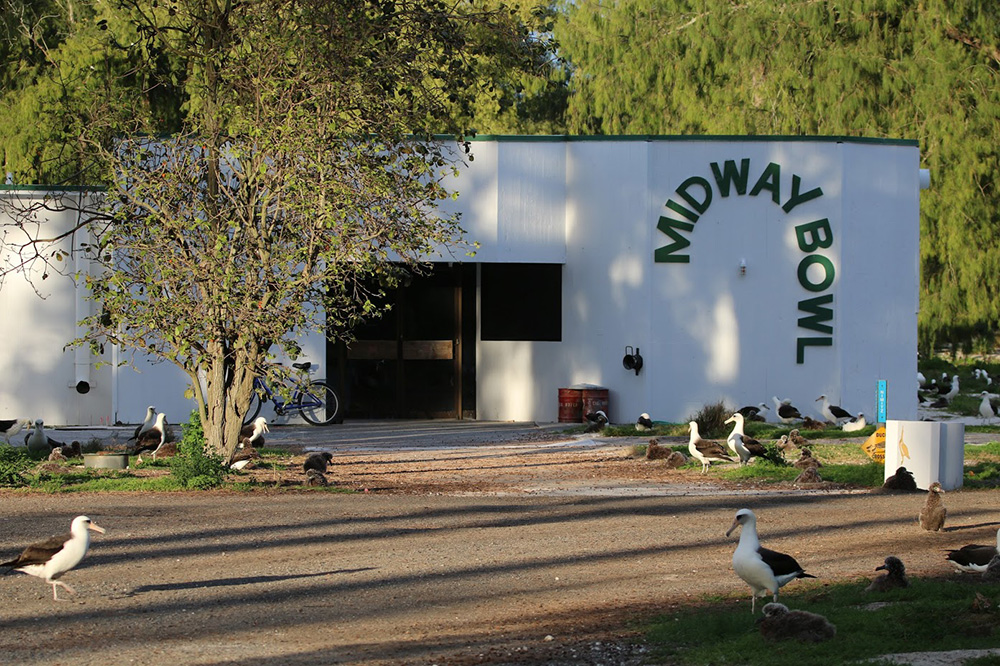 As part of the Midway Seabird Protection Project, I'm responsible for locating potential territories for invasive mice inside all the infrastructure present on Sand Island (the biggest island of the three islands that comprise the atoll). My job is to ensure all structures are known and to do this I'm in the process of visiting and documenting every building on the island as well as underground structures.
During my journey on Midway, the wildlife is always present, especially the seabirds! You can find seabirds everywhere and different species at different months of the year. It is impossible not to do some birdwatching in a natural or artificial landscape while you are working or just wondering around the island. Even in abandoned buildings when silence can feel a little eerie, you can hear from outside the calls of seabirds, making it less lonely and serving as a reminder of the importance of conservation.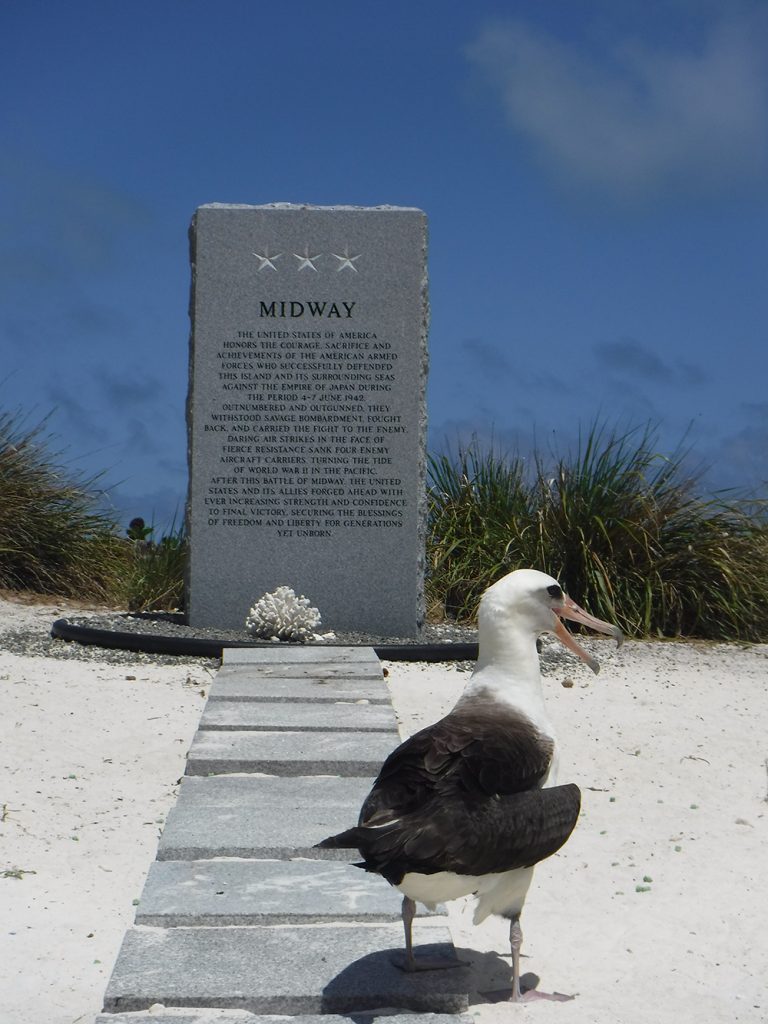 Midway is a place of both historical and biological significance and while working on the island, it is clear that the birds have observed and witnessed the history of life, nature, war, battles, and survival. Island Conservation and our partners are working to restore the native ecosystem and protect these iconic birds by removing the invasive mice that threaten them. Each time I return to Midway, it is clear to me why the atoll is called the "loud din of birds," and why I am privileged to help protect these seabirds, as well as historical and cultural resources and values of this unique and enchanting place.
Featured photo: Bowling Alley on Midway Atoll is no longer in use. Credit: Jonathan Plissner/Island Conservation