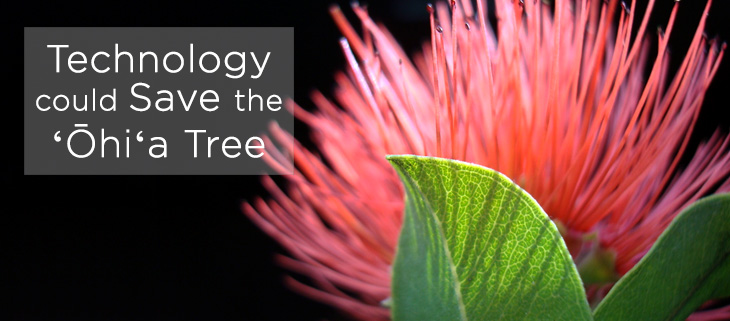 Technology Aids Conservation of ʻŌhiʻa Forests
Developments in technology are helping researchers to identify and map the spread of Rapid ʻŌhiʻa Death as they work to protect the iconic Hawaiian tree.
ʻŌhiʻa trees are iconic in Hawai'i, and known for their bright red flowers. In recent years, the valued tree has been decimated by the spread of Rapid ʻŌhiʻa Death. Roughly 75,000 acres of Hawaii's ʻŌhiʻa forests show symptoms of Rapid ʻŌhiʻa Death, which is caused by two types of Ceratocystis fungus. Conservationists are now focused on mapping the spread of the fungus.
One challenge conservationists face is that a vast amount of the ʻŌhiʻa forest that is affected is found in remote areas of the island that are difficult to test quickly. Luckily, recent technological advances can help.
Before Dr. Carter Atkinson's recent creation of the "lab in a suitcase," field samples were sent to a lab to be tested–the only problem was that the lab had far too many samples to run in too little time. This presented a roadblock for conservationists who were trying to get ahead to the disease and prevent it from spreading. Luckily, researchers found a faster way to run the tests. They developed a quick test for Rapid ʻŌhiʻa Death that can be performed in the field, which eliminates the extensive wait time and will make tracking the disease easier. Bill Buckley, the Forest Response program coordinator for BISC commented:
If we get a positive result, we then can go immediately back out and do additional sampling to get a better sense of how widespread the infection is. This greatly speeds up management decisions.
Understanding how the disease spreads and finding out where it spreads is crucial. Researchers are beginning to use drones to inspect ʻŌhiʻa forests for signs of Rapid ʻŌhiʻa Death. The drones allow researchers to detect and map the disease to get a better picture of its impacts. Dr. Ryan Perroy of the Department of Geography and Environmental Science at University of Hawai'i at Hilo explained:
It's very good for monitoring changes in the forest on an individual tree basis, because the resolution of the imagery is so fine that you can see individual leaves and branches.
Cargenie Airborne Observatory (CAO) uses a twin-engine aircraft to monitor the trees and uses 3D imaging to paint a clear picture of the diseases spread throughout the forest. Dr. Greg Asner, who leads the CAO effort commented:
Our 3D imaging system means we see the leaves in the forest canopy on individual trees…We can determine tree heights, the tree's structure, and the chemical makeup.
The advances in technology that are used to locate instances of Rapid ʻŌhiʻa Death feed the possibility of surmounting the disease and restoring Hawai'i's forests. With such large portions of ʻŌhiʻa forest affected already, Hawai'i needs all the technological help it can get.
Featured Photo: Blossom of an ʻŌhiʻa Tree. Credit: Aonani
Source: Big Island Now