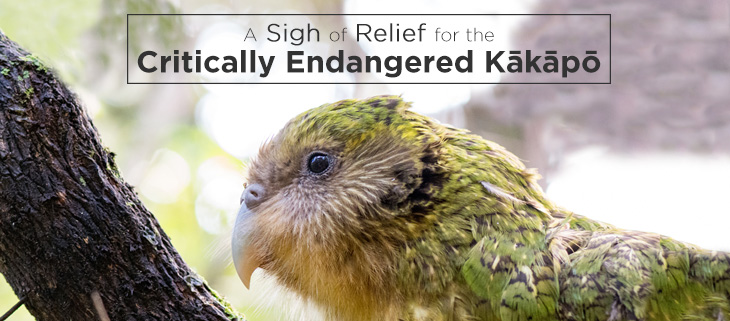 Sigh of Relief for Critically Endangered Kākāpō
Conservationists jump into action after researchers believed an invasive rat had made it to a predator-free island sanctuary for the Critically Endangered Kākāpō.
Last week conservationists had a scare as news of a potential rat on a predator-free island put into question the fate of the Critically Endangered Kākāpō. Whenua Hou is a small island located about 3km off Stewart Island, New Zealand that has been predator-free since 1998 and provides a safe home for native species.
The Critically Endangered Kākāpō is just one of the many species conservationists were concerned about on the island. Although there are currently no chicks on the island and breeding is not expected until 2019, rats are capable of breeding rapidly and a pregnant female could present a serious risk to the native birds. Tony Preston, Department of Conservation Murihiku Operations Manager explained:
They breed really quickly…two individual rats can be 15,000 by the end of the year, so we're treating this really seriously and want to get on top of it really quickly.
The scare last week started when suspected rat droppings were found on the island by a researcher and the New Zealand Department of Conservation initiated a rapid response. The droppings resembled those of a Norway rat which could devastate Kākāpō populations if introduced. Whenua Hou island already has a network of traps to prevent re-invasions, but conservationists deployed additional traps and Detector Dogs were also sent to the island to search for any additional signs.
Lab results have officially ruled out the possibility of a Norway Rat and confirmed it was actually droppings from the Kererū, the New Zealand Pigeon. Conservationists are grateful to find the Kākāpō population is safe from invasive rats and can continue to work towards a successful breeding season in 2019. All in all, the scare reminds us of the importance of predator-free islands and biosecurity measures.
Credit: "Hugh" the Kākāpō. Credit: Jake Osborne
Sources:
Public Now
Radio New Zealand