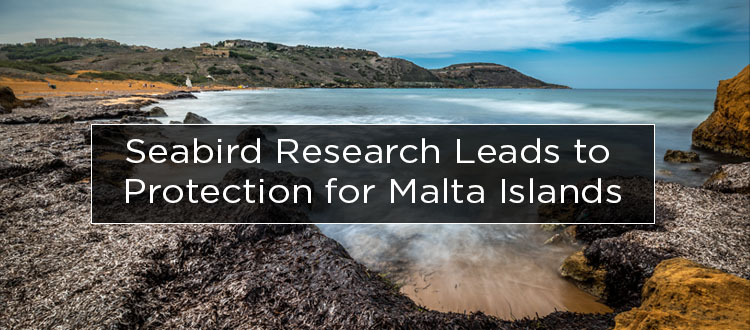 Seabird Research Leads to Protection for Malta Islands
Five years of seabird research leads to unprecedented European Union (EU) and local protection of marine areas in Malta.
Birdlife Malta has conducted research on seabirds for five years. The findings of the Malta Seabird Project have prompted the protection of marine areas which will benefit native seabirds. Previously, the cliff nesting sites in Malta have received some protection.
Seabirds are extremely faithful to their nesting spots, and if these places are destroyed or disturbed, they will have nowhere else to go.
The marine areas, however, which the seabirds also utilize, have not had any protection–until now. During the course of the research project, Malta became the first organization in the EU to successfully track seabirds. The researchers tracked European Storm-petrels and were able to designate Important Bird Areas from the data they collected. The Malta Seabird Project also engineered nesting boxes for Vulnerable Yelkouan Shearwater. This species of seabird in particular has had low breeding success rates. The nesting boxes enabled the researchers to closely observe the seabirds so that they could begin to pinpoint how they can best be supported.
Malta might not be the richest natural place in the world, but when it comes to seabirds, these islands play quite an important role in the global biodiversity scene.
Feature photo: Malta, Island photo by Giuseppe Milo (Adapted to include text)
Read the original article at Times of Malta