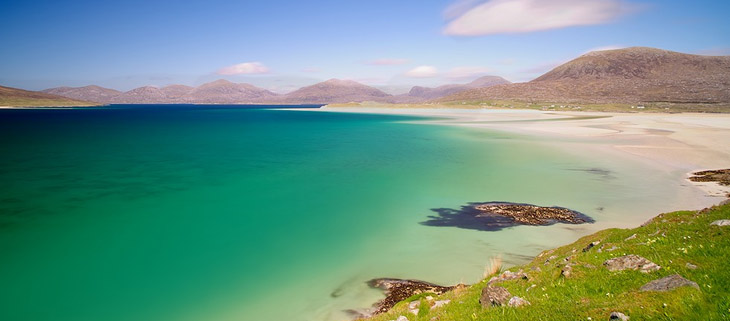 Removal of Invasive American Mink Lets Outer Hebrides Thrive
Native species are returning to the Outer Hebrides following a 17 year project to eradicate the invasive American Mink.
The Outer Hebrides are made up off 119 islands located off the west coast of Scotland. These islands are teeming with breathtaking wildlife that seems as if it is one of the last untouched landscapes in Europe. However, the invasive American Mink has devastated the ecosystem by preying on ground nesting birds and fish.  This species was originally introduced to Scotland in the 1950s as part of the fur farming industry but farmers went out of business in the 1960s, feral populations grew across the Hebrides. By 1999 there was an established breeding population on the islands of North Uist and Benbecula which threatened many important bird populations.
In order to solve this problem, the Herbridean Mink Project was started in 2001 by the Scottish Natural Heritage (SNH) with the goal of preventing further disturbances and losses to ground nesting birds by eradicating the American Mink. The project has been ongoing for seventeen years covering an area of more than 3,000 square kilometers. The Outer Hebrides remote location made significant challenges but the team overcame them and to date 2,198 American Mink have been caught. SNH area manager, David Maclennan commented:
Invasive species are one of the greatest threats to the beauty and variety of our nature. But the Hebridean Mink Project shows that we can take on invasive species – and win. It is fantastic to start welcoming back our native species. A range of factors are likely to be at play, but local people are telling us that a mink-free Outer Hebrides is having a hugely positive effect on wildlife and the economy."
The removal has helped restore biodiversity on the islands and improve populations of seabirds including Ringed Plover, Teals, Arctic Terns, Red-throated Divers and Lapwings. This restoration project has been a very significant achievement and has already shown the positive results for native wildlife with a mink free island.
Featured photo: Isle of Harris, part of the Outer Hebrides Credit: fs999
Source: Scottish Natural Heritage