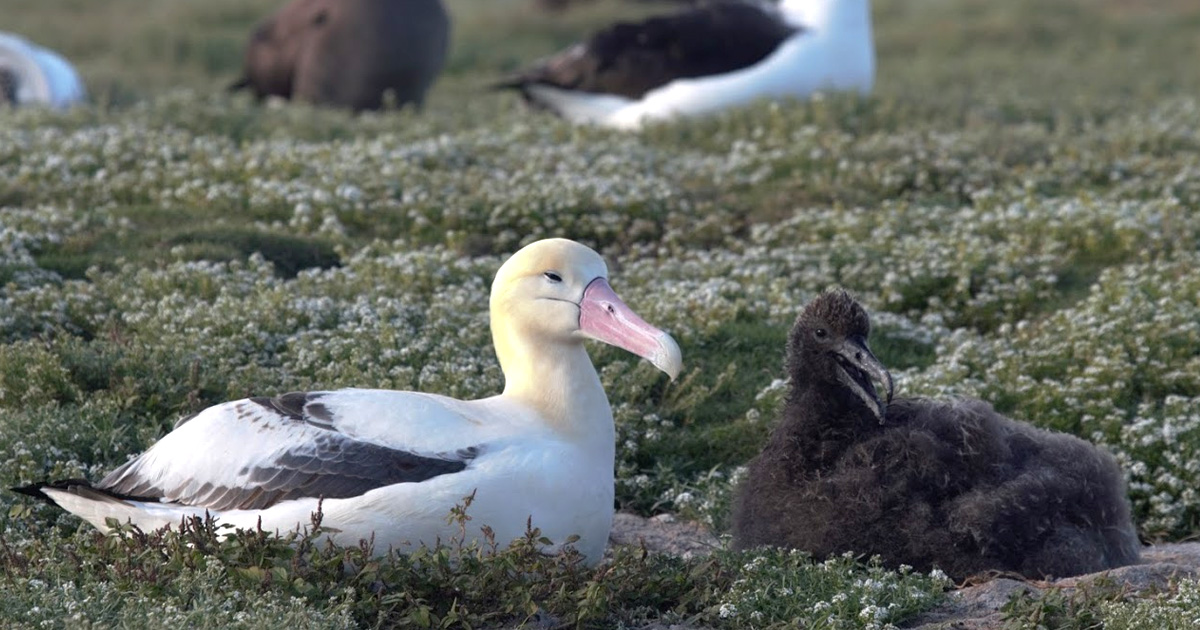 Rare Endangered Albatross Takes Flight from Midway Atoll
Jonathan Plissner recently witnessed a rare event—the fledging of a Short-tailed Albatross on Midway Atoll. In celebration of the first World Albatross Day, he shares his thoughts on this event and hopes for the future.
Short-tailed Albatross are one of the rarest and most endangered seabirds in the Pacific. Most of the global population breeds on islands in Japan, but for decades one or two of these large distinctive Albatross have called Midway Atoll home. In 2016 a new potential pair—Lonesome George and Geraldine—began to form on Midway, and in 2019 they successfully raised a chick. Only a handful of short-tailed albatross have been know to fledge from Midway Atoll, and because the birds are so rare any successful chick is a cause to celebrate!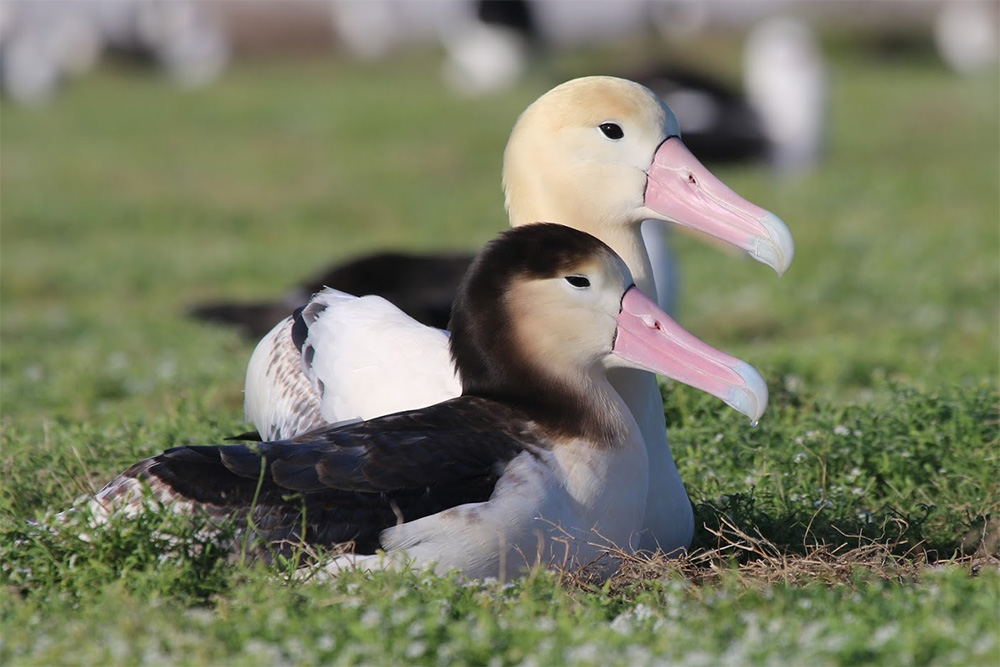 Recently Island Conservation's Island Restoration Specialist, Jonathan Plissner, was lucky enough to watch this rare event unfold on Midway Atoll. This is the second year that Lonesome George and Geraldine have laid their own egg and successfully reared a chick, but just a few short weeks ago the chick, disappeared from its nest site. After about a week, the chick unexpectedly reappeared on a beach across Sand Island. Jonathan and a few Fish and Wildlife staff members on Midway trailed the young bird, still with some downy feathers, the remainder of the day as it steadily walked the beaches eastward (reminiscent of Forrest Gump's cross-country running groupies). After resting for the night near the northeast end of the island, the bird made its way to the water early the next morning. As a small pod of dolphins swam past, the chick took flight across the water, leaving land behind for the next five or more years. Jonathan explained the excitement of the moment, saying:
The thrill of seeing this rare bird fly off into the rising sun was amplified by raising my hopes for last year's chick, the first-ever known to have hatched on Sand Island, which also disappeared from the nest site earlier than expected in late May."
Jonathan likes to imagine that last year's chick made a similar journey, crossing the beaches undetected before also leaving Midway behind. These Albatross will spend the next 5-7 years at sea and then perhaps will be the first to return to breed on a rodent-free Midway Atoll. Securing Midway as a critical nesting site for not only Short-tailed Albatross, but also the world's largest population of Laysan Albatross and one-third of the global Black-footed Albatross population could be a potential turning point for the global populations of these incredible seabirds.
Today, June 19, 2020, is the inaugural World Albatross Day—a day to celebrate these incredible ocean wanderers, but also to reflect on the threats these seabirds face and the conservation actions necessary to protect them. The theme for this year is the threat of invasive species, a particularly relevant concern since two globally significant projects to remove invasive mice from islands to protect Albatross were planned for this year, but have been postponed due to the ongoing pandemic. Still, Jonathan reminds us that island species have an incredible capacity for recovery, saying:
Nature has a way of reminding us that species and populations often have a remarkable capacity for resilience and fuel our hopes for recovering natural systems."
Featured photo: George the Short-tailed Albatross and his chick at 2 months old. Credit: Jonathan Plissner