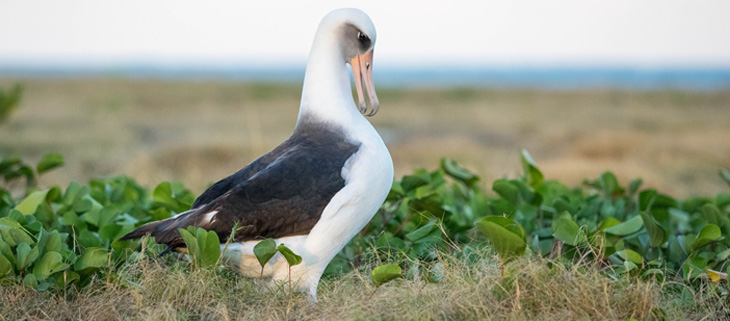 Protecting Our World's Oldest Wild Bird
The US Fish and Wildlife Service, Island Conservation, and our partners join together to restore Midway Atoll and protect seabirds including Wisdom and her hatchling.
Midway Atoll is located almost perfectly in between North America and Asia, but this small spot on a map is home to seabird colonies that need our help. The presence of invasive mice on the island threatens the largest Laysan Albatross breeding colonies in the world including one particular seabird—Wisdom the oldest known wild bird.
This month, the US Fish and Wildlife Services (USFWS) released the final environmental assessment of the Midway Seabird Protection Project to remove invasive mice and restore nesting habitat for native birds. The USFWS, Island Conservation, and our partners are joining together to protect these birds and their habitat from invasive mice. The news comes just as Wisdom's latest egg has hatched; meaning we are now working to save Wisdom, her chick, and one of the world's largest albatross breeding colonies in the world.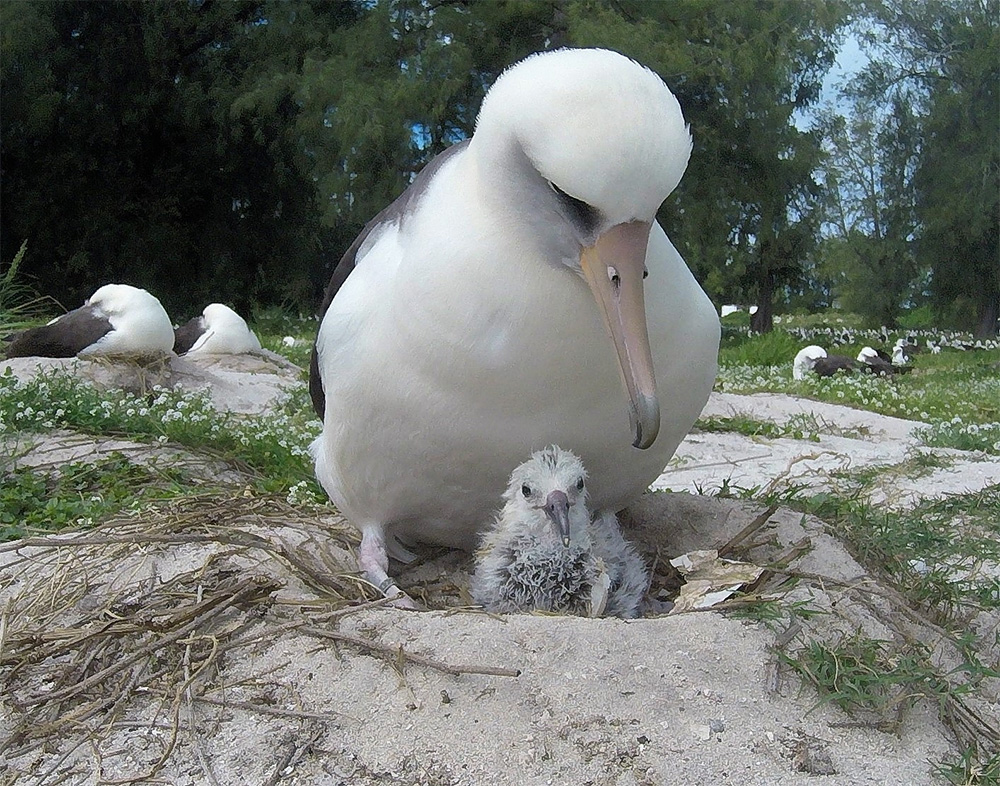 Wisdom is estimated to have hatched more than 30 eggs in her lifetime, but in recent years these chicks have been at an even greater risk due to invasive species. In 2016 Midway began to see the effects of invasive mice. For only the second time, invasive mice were found to not only attack chicks and eggs but to attack adult Albatross as well.
While an adult albatross is quite large (up to an 11ft wingspan depending on the species), they are evolutionarily hard-wired to incubate their egg. No matter the cost. The problem that began as an isolated and infrequent incident quickly spread over the island putting one of the largest breeding colonies of Laysan and Black-footed Albatross at risk.
The US Fish and Wildlife Service is coordinating with the Papahānaumokuākea Marine National Monument co-managers and working with Island Conservation, American Bird Conservancy, National Fish and Wildlife Foundation, National Oceanic and Atmospheric Administration, U.S. Geological Survey, and other members of the conservation community to protect and conserve Midway Atoll's seabird colony and are working to find solutions to this growing crisis.