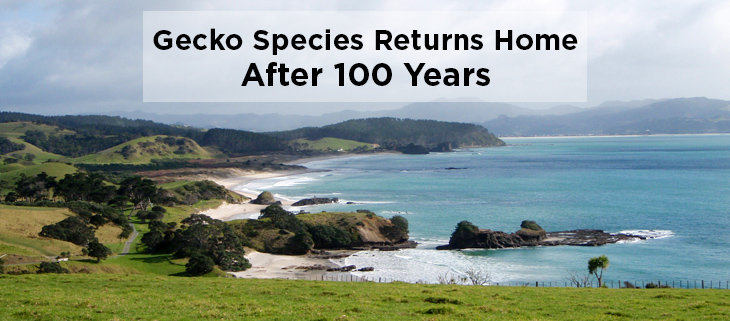 Duvaucel's Gecko Returns to New Zealand Mainland
New Zealand's biggest native gecko is returning to the mainland after a 100-year absence.
The Duvaucel's Gecko is New Zealand's biggest gecko–but it's not big enough to ward off invasive predators. This native New Zealand species experienced extreme decline due to the presence of invasive species in its habitat. Now, after 100 years of absence, and captive breeding efforts, 80 individual geckos have been returned to a fenced-off sanctuary on the New Zealand mainland.
Growing up to 30 centimetres long, weighing 120 grams, and living up to 50-years-old, the animals give birth to just two live young each year.
Alison Stanes, Tawharanui Open Sanctuary (TOSSI) Chair, said:
TOSSI volunteers are delighted to welcome these beautiful geckos back to a protected environment. This is a wonderful reward for years of hard work.
A Duvaucel Gecko. Credit: Shaun Lee
The young geckos were put into protective piping with sealed ends for their journey north to be released.
Featured photo: Tawharanui landscape. Credit: Seamoor
Source: Stuff.co.nz