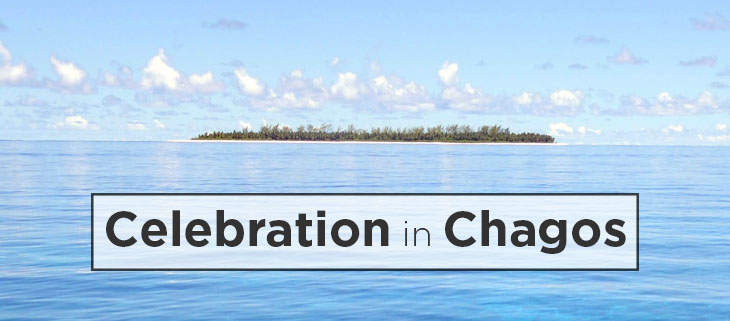 Successful Conservation Intervention in the Chagos Archipelago
British Indian Ocean Territory, 10 April 2017: Conservationists from the Chagos Conservation Trust announce the first successful removal of invasive black rats in the Chagos Archipelago.
Success! Conservationists with the Chagos Conservation Trust (CCT) are celebrating the news of a successful restoration mission to remove invasive rats from Ile Vache Marine. The Chagos Archipelago region rests just south of the Maldives within the British Indian Ocean Territory. Ile Vache Marine lies within a designated Strict Nature Reserve.
Invasive Black Rats likely arrived on the island by boat. Rats may have scurried ashore during the first attempts of permanent settlement by the French and British in the late 1700's and possibly earlier during Portuguese exploration. The island is home to the Critically Endangered Hawksbill Turtle and the Endangered Green Sea Turtle (Endangered). Internationally protected native seabirds also inhabit the island. Rats eat the eggs, hatchlings, and nestlings of the turtles and birds. They are also known to eat adults. For centuries, the rats on Ile Vache Marine aggressively suppressed native animal population levels. In recent years, only small numbers of important seabird species were known to breed on the island.
In 2014, an invasive rat removal operation was implemented. The goal of the CCT project was to restore biodiversity and the island's native ecosystem. In order to declare an island "rat free," a minimum period of two years of monitoring must take place. After completion of the project, Pete Carr, a CCT trustee and terrestrial biodiversity specialist, and the restoration team waited before returning for assessment. Carr claims:
We know that globally invasive black rats have had a devastating impact on oceanic island ecosystems by suppressing populations of native animals and preventing regeneration of native plants.
In April of 2017, Pete Carr along with Dr. Grant Harper, a biodiversity restoration specialist, received support from the British Indian Ocean Territory Administration to carry out a return-expedition to the island. The goal: To examine their prior work in hopes of finding flourishing native restoration and to finally declare Ile Vache Marine free of rats.
The project was a success–no evidence of rats! Observations include an increased number of invertebrates, seabirds breeding, and native seed germination. The announcement of this successful project signals the beginning of the healing process of this small island–a regional example for larger neighboring islands. Perhaps a Hawksbill Turtle can return to Ile Vache Marine after long ocean travel to build a beach nest, now safe from invasive predators.
Source: Chagos Conservation Trust
Featured photo: Ile Vache Marine. Credit: Jon Slayer