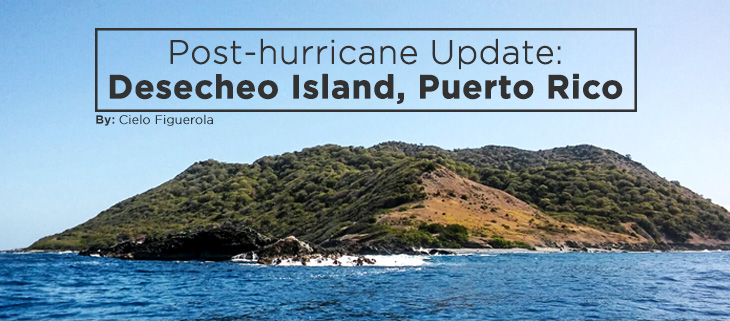 Desecheo Island can Continue to Recover After Hurricane María
Island Conservation Restoration Specialist Cielo Figuerola shares how Desecheo Island was affected by Hurricane María.
By: Cielo Figuerola
I had the opportunity to visit Desecheo Island after the (not friendly) visit from hurricane María through Puerto Rico and wanted to share with you a summary of the status of the island post-hurricane. I visited the island on Oct 31, 2017 with our partners Effective Environmental Restoration (EER) and USFWS – the purpose of the one-day trip was to assist EER in the implementation of biosecurity measures after hurricane María. In general, the island looks not significantly impacted and disturbed.
Habitat
The habitat in general looks open and exposed in many areas due to canopy loss. We saw several big landslides along the cliffs surrounding the valleys and on the northern and eastern slopes. There is also evidence of considerable amounts of rain since one could see what was left of "rivers" that went down the mountains while the hurricane was hitting the island and afterwards. The cyclonic storm surge seems to have been huge – all the rocky sand around the coast disappeared and what is left is the bare solid rock. Also a lot of vegetation close to the coast looks burned because of the salt water and sea wind. The island already looks very green – it has rained a lot!
Flora
Many of the trees lost all their leaves but already are re-sprouting and with flower buds. We didn't see many trees on the ground, most of them resisted the strong winds. Many of the big Higo Chumbo Cactus have been torn from the root, although a formal assessment needs to be conducted and we plan to do that during our next trip. Good news is we saw several young Higo Chumbo Cactus alive and well.
Fauna
We saw the 3 endemic reptiles: gecko, anole and ground lizard. We didn't see green iguanas, although we didn't hike the whole island. Regarding birds, the ones we detected include: frigate bird (2), oystercatcher (2), American kestrel (1), a potential peregrine falcon (1), pearly eyed thrasher (we heard several), king bird (we heard), warbler (1) (from a distance, we couldn't identify it) and scaly-naped pigeon (2). When we went around the island on the boat, we didn't see any seabirds (besides the frigate birds). We didn't see rats or signs of rats during the visit or in photos from the camera traps EER has on the island.
All in all, Desecheo survived the hurricane and is already recovering from its impact – we hope to have more news after our next formal trip to the island.
Featured Photo: Desecheo Island landscape and seascape. Credit: Island Conservation