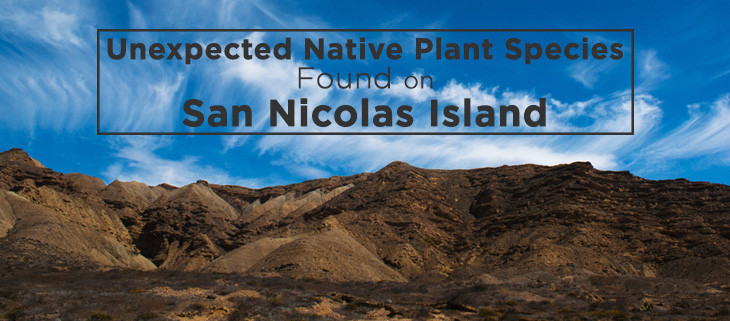 Unexpected Native Plant Species Found on San Nicolas Island
Researchers have found new species of plants never before seen on San Nicolas Island and believe this could inform knowledge of the historical California coastal vegetation.
Conservation can sometimes be a moving target, and as researchers learn more about the ecosystems they are trying to protect, they often discover the unexpected. On San Nicolas Island, the most remote of the California Channel Islands, researchers are finding native plant species that have never been found on the island before.
As the furthest island from the mainland, some might assume San Nicolas Island is relatively untouched, but invasive species have decimated the island in the past. Now the island is in recovery after invasive feral cats were removed. The San Nicolas Channel Island Fox, the Island Night Lizard, and other native plants and animals are now rebounding. The island, now free of invasive feral cats, has once again begun to flourish and is showing signs of revival that researchers did not expect.
One such sign is the discovery of new plant species on the island. Beginning in the early 1900s, records of the island's vegetation have been kept, but now after the removal of invasive species researchers are finding new species. The newest species to land on the discovery list is Seaside Cistanthe (Cistanthe maritima) which grows along the coast of Southern California and some of the Channel Islands. Matt Guilliams, a botanist at the Santa Barbara Botanic Garden commented on his discovery:
As a person with basically a deep love of California plants, I've always got my eyes open, and as we were walking around on the landscape, you can't help but notice something that's new.
Seaside Cistanthe is one of three flowering plants that have been newly discovered on San Nicolas Island in the past two years. The island's signs of recovery are still continuing as researchers slowly unveil the diversity of life on the island. Guilliams explains:
When we discover something new … for me, what that signifies is that we are taking a step forward in our knowledge of biodiversity and we can be that much better stewards to biodiversity.
These discoveries are also considered to be indicative of the type of vegetation once found along the Southern California mainland and could inform conservation both on and offshore.
Featured Photo: Landscape on San Nicolas Island, CA. Credit: Erik Oberg/Island Conservation
Source: KQED