TIB Database
Introducing the global Threatened Island Biodiversity database (TIB).

The TIB is the world's best compilation of Threatened species (as classified by the International Union for the Conservation of Nature or IUCN), invasive animals, and islands. The database can be viewed here: http://tib.islandconservation.org/
Islands are...
....only... ...but home to...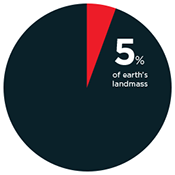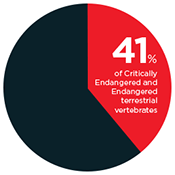 ...a special conservation need. Islands represent less than 5% of the earth's land area yet are home to 80% of known extinctions since 1500 (Ricketts et al. 2005), and 39% of today's IUCN Critically Endangered species are island residents (TIB Partners 2012). Invasive, alien vertebrates are a leading cause of insular extinctions and remain a critical threat to endangered island species today (MEA 2005).

...a special conservation opportunity. There are proven techniques to protect island biodiversity, including more than 1,000 successful island eradications of invasive vertebrates worldwide, often followed by remarkable recoveries of endangered species and ecosystems (Keitt et al. 2011). The challenge now is to increase the scale and application of these proven restoration tools to reverse this trend of island extinctions.

Prioritizing conservation for threatened island biodiversity. The Threatened Island Biodiversity database is the most comprehensive global review of IUCN Threatened Species breeding on islands that are at risk from invasive vertebrates. Our goal is to help conservationists globally identify priorities for interventions to prevent island extinctions. The TIB today includes almost 2000 islands and 1182 threatened species.

TIB partners who will maintain and expand the database over time include

Island Conservation

,

University of California at Santa Cruz - Coastal Conservation Action Laboratory,

BirdLife International

, and the

IUCN Invasive Species Specialist Group

.

References
Keitt, B., K. Campbell, A. Saunders, M. Clout, Y. Wang, R. Heinz, K. Newton, and B. Tershy. 2011. The Global Islands Invasive Vertebrate Eradication Database: A tool to improve and facilitate restoration of island ecosystems. In: Veitch, C. R.; Clout, M. N. and Towns, D. R. (eds) 2011. Island invasives: Eradication and management. IUCN, (International Union for Conservation of Nature), Gland, Switzerland.
MEA 2005. Millennium Ecosystem Assessment. Ecosystems and Human Well-being: Biodiversity Synthesis. World Resources Institute, Washington, DC.
Ricketts, T.H., E. Dinerstein, T. Boucher, T.M. Brooks, S.H.M. Butchart, M. Hoffmann, et al. 2005. Pinpointing and preventing imminent extinctions. Proceedings of the National Academy of Sciences 102:18497-18501
The Critically Endangered Juan Fernandez Firecrown found only on Robinson Crusoe Island, Chile. This vibrant hummingbird is threatened by invasive species on the island which destroy their critical habitat.
Featured Species
No longer able to raise its young in the wild, this Critically Endangered species is in urgent need of a permanent solution.